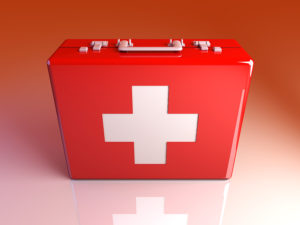 If you can prepare your loved one's home as much as you can for emergencies, you won't have to worry as much if something should crop up.
Keep Phone Numbers Beside All Phones
Your elderly loved one may not be able to fumble with a contact list in her phone easily during an emergency, so it's a good idea to make all of the phone numbers that she needs even easier to get to. Print up a list of all important phone numbers and make a copy for each phone. You might even want to laminate the list to make it sturdier. Keep a copy by every phone.
Keep Flashlights and Nightlights in Every Room
If the power should go out, your loved one needs to be able to see. Battery-operated nightlights and flashlights are the right tool for the job. Keep one of each in every room where your loved one can find them easily.
Consider a Home Generator
For areas where the power goes out often or the power is likely to stay out for a longer period of time, consider a home generator for your loved one's home. These typically run on gasoline or other fuels and turn on automatically when the power stops working. You'll need to make sure to check it periodically to make sure that it stays in good working order when it's not in use.
Stock up on Fresh Water and Shelf-stable Foods
Make sure that your loved one has access to plenty of fresh water and some shelf-stable foods. Many people forget that water may not work without the power, so it's essential to have a way to access fresh water during an emergency. Foods such as MREs, or meals ready to eat, don't require a power supply to heat them up and they're a way to feed your loved one in an emergency. They're also shelf-stable for a very long time and don't require refrigeration.
Pack a "Go Bag" for Your Elderly Loved One
If there's a possibility that your loved one might face an emergency that requires evacuation, a "go bag" is incredibly helpful. This is simply an overnight bag in which you pack a couple of changes of clothes, necessary medication, and even some extra food and water.
Let your loved one's home care providers and other family members know what your emergency plan is so that they can know exactly what to do in the event of an emergency.
For home care in Cherry Hill, NJ and the surrounding areas, call and talk to us at Home to Stay Healthcare Solutions (856) 321-1500.