One of our former clients, who was celebrating her retirement, tripped over a small step down (2 steps!) on their patio, which unfortunately left her a quadriplegic.  She had very little time to prepare for her retirement, let alone how she would be spending it in her new normal.

-Andrew Dubler, Owner, Home To Stay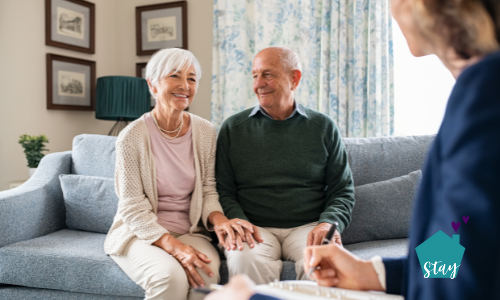 Oftentimes, people are unprepared for when they become homebound and they don't have a lot of time to plan for in-home care services. One can become homebound for a variety of reasons such as illness, injury, or mobility limitations. The good news is that there are a lot of services available today to help support people that are no longer able to leave their home. 
Activities of Daily Living (ADLs)
Home to Stay specializes in providing in-home caregivers to support activities of daily living (ADLs). Activities of daily living are activities related to personal care. They are basic tasks a person needs to be able to do on their own to live independently.
These tasks include:
Bathing or showering (also includes oral care)

Dressing

Toilet hygiene (getting to the toilet, cleaning and getting back up)

Ability to transfer from a seated position to a standing position (getting in/out of bed, chair, toilet)

Ability to feed oneself 
These are the activities that most of us do on our own everyday when we get up in the morning and get ready to leave our house. We do not give these independent skills much thought until we can no longer do them on our own. They represent an extremely important part of our day, but, (as we are all aware) there is more to life than going to the bathroom, eating, and getting dressed!
In-Home Services
Some of the services that can be brought in to the home to help someone that is homebound truly live – not just exist – include:
All types of therapy (PT, OT, ST) to help the healing process and maintain/improve current functional levels

Counseling services (both in-person and virtual) to help process feelings and understand what your new reality looks like

In-home hair stylists to help make sure you are able to still look like your typical self even though you are not leaving the home 

In-home massage to stay flexible and comfortable

In-home virtual reality provider that comes to your home and takes you on guided tours of places that are meaningful to you

Feng Shui provider to help make sure your house flow works for you and is structured in the best way possible

Zoom Room with a large screen where your family and friends can visit and engage with you from afar

In-home movie theater/concert hall so you can watch and listen to your favorite content without sacrificing quality
As you can see from this list, there are a number of things that can be done at home to keep people active and engaged.
A famous study conducted by psychologists from Northwestern University that looked at data from people that won the lottery and people that were suddenly left wheelchair-bound for the remainder of their lives. Surprisingly, winning the lottery was no guarantee for happiness, and those that had a traumatic event and lost the ability to walk were just as happy as the lottery winners, if not happier, while performing everyday activities. The results of this study speak volumes, both to the power of having the correct attitude in dealing with life's rewards and challenges and also our ability as human beings to acclimate to our environment over time.
Contact a reliable local resource for in-home assistance and safety products and installation:
Tim Ryder
That Grab Bar Guy
609-451-0225