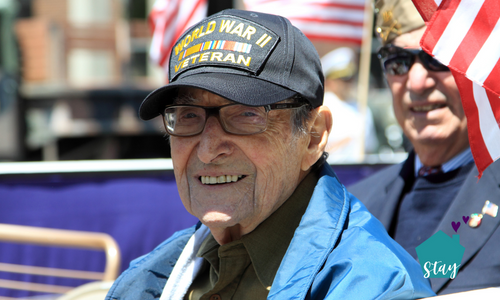 Veterans make up nearly 7% of the US population. Many of these people have serious physical and mental health problems, chronic conditions, and disabilities that affect their mobility, cognitive skills, and overall quality of life. 
Particularly, the risk of Alzheimer's is significantly higher among veterans compared to the general population. Data shows that nearly 170,000 veterans were diagnosed with Alzheimer's in 2021, and this number is expected to increase steadily in the coming years. 
Veterans with Alzheimer's and permanent disabilities often find it difficult to get around and manage their daily chores. At the same time, they are reluctant to move to a nursing home or an assisted living facility, as they do not want to give up their sense of independence. For these people, in-home healthcare might be the best option.
In this article, we take a look at the financial benefits offered by the US Department of Veteran Affairs (VA) to veterans who need in-home care. 
VA Benefits for Veterans Who Need In-Home Care
Homemaker and Home Health Aide Care
This program is meant for veterans who need assistance with their activities of daily living and personal care. Under the program, homemakers and home health aides (who work for an agency or facility that has a contract with VA) provide in-home care to veterans on an as-and-when needed basis or on a 24/7 basis. 
Homemakers can help you with a wide range of day-to-day activities like grocery shopping, meal preparation, laundry, and housekeeping. Home health aides, on the other hand, can help you with toileting, bathing, dressing, eating, and other such activities. 
Other Benefits and Resources for Veterans
Veterans Pension
Veterans Pension – also referred to as VA pension – is the single most reliable source of income for a majority of veterans in the country. In order to qualify for it, you must be at least 65 years of age, have undergone at least 90 days of active duty, and meet at least one of the following requirements. 
A net worth of $129,094 or less

Permanent disability 

Receiving skilled nursing care

Receiving Social Security Disability Insurance (SSDI) or Supplemental Security Income (SSI) benefits
In addition to VA pension, two other benefits are available specifically for veterans who are housebound due to their health condition.  
VA Aid and Attendance 
In order to qualify for VA Aid and Attendance benefits, you must currently receive VA pension and meet one or more of the following requirements. 
You need the assistance of a third-party to perform activities of daily living like getting in and out of the bed, using the toilet, bathing, dressing, and more. 

You are completely bedridden or have to spend most of your day in bed due to an illness.

You live in a nursing home due to a physical or mental impairment.

You have limited eyesight (5/200 or less in both eyes).
Housebound Benefits
Just like VA Aid and Attendance, housebound benefits are also meant to financially support veterans who are housebound due to their health condition. 
In order to qualify for this benefit, you must currently receive VA pension and must be housebound due to a permanent disability. 
Home to Stay – Offering the Highest Quality In-Home Services for Veterans
At Home to Stay, we take pride in serving the needs of those who serve our country. If you are a veteran who is permanently disabled or housebound due to age and health-related reasons and you are receiving Veterans Benefits, we can provide you with the in-home care and assistance you need so that you can age in place. We are committed to providing you the services you need at a rate you can afford. 
All our service providers are highly skilled, trained, bonded, and insured and our services are available 24 hours a day, 7 days a week. Call us today at 856-321-1500 or use our contact form to find out more about our services.