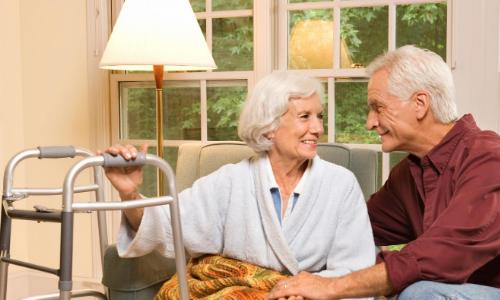 When considering options for long-term care as you or your elderly loved one continues to age, you may be hesitant to go straight for a nursing home or long-term care facility. If you wish to age in place, in the comfort of your own home, then there is much to consider before your home is ready to safely foster an elder.
In an interview with Andrew Dubler, co-owner of Home to Stay Senior Care Solutions in Cherry Hill, NJ, he shared several statistics from the U.S. Centers for Disease Control and Prevention, including: "this year in America, 1 in 4 seniors over the age of 85 will experience a fall, and in turn, a senior is sent to the emergency room every 11 seconds for the inflicted damage." Evidently, home safety is of utmost importance when considering taking in a senior loved one or assisting them to age in place.
In this virtual interview, Andrew and Tim Ryder, owner of That Grab Bar Guy, a grab bar and home safety equipment installment company in South Jersey, both recount the personal experiences that brought them into their respective fields of elder care support services in South Jersey. Having their own personal and family related injuries from falls along with working with fall-prone seniors daily has given them both first hand knowledge of what is needed in home to ensure the safety of older people.
During the interview, Tim shares a multitude of home safety tips for seniors to establish a home with minimized danger and risk. He suggests the two simplest ways to protect seniors is to keep your home well lit and remove all throw rugs. Yes, it is that simple to immediately decrease your risk level! Having inadequate lighting and throw rugs placed around the house are both major tripping hazards especially for seniors, which can lead to unwanted injuries and hospital visits. Other suggestions included: removing clutter from all walkways and having a minimum of 24 inches of room to maneuver through spaces is essential — especially when considering those with walkers, canes, or other walking assistants.
As a grab bar installment expert, Tim states that grab bars are not limited to certain areas of the house. Although they are typically seen in bathrooms and showers, grab bars should be installed wherever you spend time the most or need assistance while balancing as you have a higher chance of falling in those areas. 
If you or your elder loved ones are at risk of a fall in the home and live in the South Jersey area, consider in-home support services like Certified Home Health Aides with Home to Stay and safety equipment installed by That Grab Bar Guy.
Watch the full interview with Andrew and Tim below.
For privacy reasons YouTube needs your permission to be loaded. For more details, please see our
Privacy Policy
.
I Accept