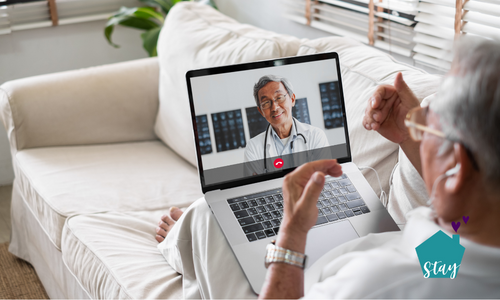 Telehealth means "healing at a distance." It's the mechanism that delivers patient-centered healthcare services remotely to individuals where they live. For people facing significant physical and financial barriers to access the healthcare support they need and deserve, this is a highly effective and accessible solution.
How Does Telehealth Work?
With Telehealth, you only need a computer or mobile device and a reliable Wi-Fi connection to remotely consult with a doctor. If you're talking to a provider online via chat message or video visit or checking lab test results, all you need is a digital device and an internet connection for Telehealth. 
Depending on what you're seeing the doctor for, you may also want to have a private space during your virtual visit. Make sure that your device has good working video and sound capabilities. If you've been asked to use a Remote Patient Monitoring (RPM) system, talk to your doctor or a nurse to understand exactly how to use it. Depending on the type of RPM device you are using, you'll need a cellular or Bluetooth connection.  
Some of the most common Telehealth services include:
Communicating with the care provider 

Reviewing previous visit summaries and test results

Requesting prescription fills 

Requesting appointment reminders 

Scheduling appointments

Getting virtual, on-demand visits
Benefits of Telehealth for Seniors and their Caregivers
Telehealth has enormous potential for assisting seniors who want to maintain their independence and enjoy living at home longer. From communicating with a nurse through a web portal, to tracking your vital signs with RPMs, and to receiving same-day care from a doctor via video chat, Telehealth can make your life so much easier. Here are some of the biggest ways that Telehealth services can benefit seniors and their caregivers.
Reduce the Number of Unnecessary ER and Hospital Visits
Nearly 32% or 1 in 3 adults age 65-80 visit an emergency room each year – and over 70% of those visits are preventable. These "non-emergency" situations often include flu, dizziness, cough, bronchitis, sore throat, nausea, back pain, and upper respiratory infections, which can be easily treated through Telehealth services. 
Cultivating a decent relationship with your provider, including chronic disease management, preventative care, medication management, and regular Telehealth visits can lead to fewer ER visits and fewer sick days. It can help you avoid life-disrupting and expensive trips to the ER or a medical center by improving your communication with the provider. 
Early intervention can warn your primary care doctor about even the smallest changes in your condition before it becomes an emergency. For example, if your diet needs to be changed or your blood pressure medication needs to be adjusted, your healthcare team can suggest adjustments to keep you comfortable at home.
Remote Patient Monitoring of Chronic Conditions 
Older adults are more prone to chronic illnesses, such as arthritis, type 2 diabetes, heart disease, dementia, and cancer. These diseases are complex and often require ongoing symptom management and monitoring. And this is one of the biggest advantages of Telehealth services. You and your caregiver can work remotely with your doctor to discuss any changing or new symptoms. Some conditions and symptoms that may be evaluated over a virtual visit include:
Arthritis pain

Heart failure and swelling

High blood pressure 

Diabetes and unbalanced blood sugar levels 

Mood changes, anxiety, and depression

Keeping an eye on side effects caused by a medication
Reducing the Stress on At-Home Caregivers
More than 21% of the American population plays the role of caregiver for a loved one in the family. And in that population, 20% suffer from depression while 38% of caregivers struggle with anxiety – all a direct result of their caregiving duties. This should not be a surprise; caring for an older adult can be a full-time job with competing responsibilities, which can unfortunately lead to burnout.  
Telehealth can provide incredible relief for caregivers by providing more convenient access to a medical support system. In addition to the virtual doctor visits, you can also utilize other services pertaining to mental health, case management, and social services. Physicians, nurses, and specialists can work with the patient and their caregiver to create a cohesive care strategy. 
For example, you won't have to drive your loved one to-and-from the doctor's office; you won't need to attend appointments, pick up prescriptions, manage physical health records, or coordinate care. Many of your responsibilities regarding your loved one's medical care can be managed with a few taps on your phone. 
If you don't live with the individual who you're caring for, they can be recommended to wear a tracking device that measures their vital signs in real-time. It will immediately alert you when their levels fall below the appropriate level. This can eliminate the need for everyday visits and just give you a lot of peace of mind, leaving you free to focus on yourself as well.
24/7 In-Home Care Services for Seniors in New Jersey
Since 1989, Home to Stay Senior Care Solutions has provided home companionship services to the elderly in order to keep them physically, emotionally, and mentally engaged, helping them live on their own terms. Our hourly or live-in caregivers are also able to coordinate with Telehealth visits so you can enjoy personalized medical care services without having to leave your home. For more information, please call us at (856) 321-1500 or contact us online.