Elder Care in Woolwich Township NJ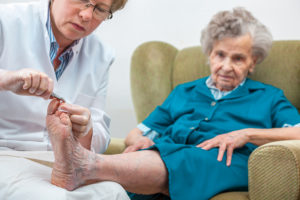 Feet can be easy to ignore. When they are in socks and shoes all day, caregivers can often forget that they can be a source of pain and discomfort for their elderly loved one. The fact is, after years and years of walking, exercising, running, and more, foot health can become a major concern for elderly adults. Foot pain and discomfort can lead to poor quality of life and it can make your loved one less likely to engage in fun and enjoyable activities. Read on for some tips to help you help your loved one care for their feet and reduce foot pain so that they can feel confident in doing the activities that they love.
Visit a Podiatrist
Does your loved one have a podiatrist? If not, it may be a great time for them to find one. Getting a regular foot check up is not a bad idea for elderly adults who experience foot pain and discomfort. A podiatrist can help your loved one to discover the cause of their pain and they can help recommend solutions. They can also perform X-rays and sometimes perform surgery if needed.
Choose Comfortable Shoes
Having comfortable, supportive shoes is important for elderly adults for many reasons. Wearing shoes that are easy and comfortable to walk in can help your loved one to prevent falls. In addition, supportive shoes can help prevent foot pain. this is especially important if your loved one has a walking routine. Wearing proper shoes can help them to get the most out of their walk as they will prevent pain and help your loved one to have a more even stride. If their walks are pain-free, they will be more likely to enjoy them and want to walk more often.
Prevent Fungal and Bacterial Infections
Fungal infections such as athlete's foot are common because the inside of socks and shoes can become an ideal environment for fungus (and bacteria to grow) – warm, humid, and dark. To help your loved one to prevent foot infections, encourage them to wear shoes in locker rooms, gyms, and on pool decks where fungal infections can be picked up. In addition, they should take care to keep their feet clean and dry by washing their feet and changing socks often. Sometimes, using a foot powder can help keep the feet dry.
Source: http://www.medicinenet.com/script/main/art.asp?articlekey=60508
For elder care in Woolwich Township, NJ and the surrounding areas, call and talk to us at Home to Stay Healthcare Solutions (856) 321-1500.