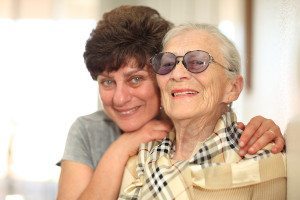 Even though the details of your caregiving situation may be unique, there are many commonalities between family caregivers and what they have to arrange caregiver sharing between siblings. Normally, one sibling becomes the primary caregiver due to other siblings living farther away or the one sibling being more suited to being a caregiver. Either way, it's an unfair situation and is too much for one person to handle alone without help.
Kate's caregiving story is actually pretty successful compared to some. When her mother needed caregiving help, she lived only a few blocks away. Her sister Susan lived 55 miles away. For some people 55 miles is enough of an excuse not to do their share of caregiving duties. But for Susan, she took the opportunity on weekends to drive to Kate's city and take over caregiving duties. This is a lot more than dropping in for an occasional visit which many siblings do and they consider it doing their share. For siblings that skirt their responsibilities, they are not contributing fairly to their parents' care.
Here are the top excuses siblings use as their reasons for not helping.
"I just don't have the time to do it." Well, does this mean the primary caregiver has nothing but free time? If everyone got together and helped out, there would be less time caregiving for everybody and the responsibilities wouldn't seem as heavy with more people sharing the load.
"I can't afford to." While it might be true that some siblings can't help out financially by paying for some respite care to give you a break, if he lives too far away to help in person he could arrange for bill payments online and keep your parents' financial records in order.

"It's too hard for me to see my parents like that." This step isn't easy for anybody. Do they somehow think it's any easier on you? They need to pull up their socks and help their parents in whatever way they can. If you can't convince them to come in person to help, maybe they can pay for

some elderly home care so your parents are getting expert care and it gives you some time off.
This is definitely the time to set old family arguments aside and cooperate for the sake of your beloved parents. It's their time of need now, and sibling rivalry will not help you form a relationship of cooperation. Whatever was in the past between siblings, leave it in the past and think of this as an opportunity to form some new bonds with your siblings by sharing caregiving. Let your siblings know your desire to work together and make a plan you can all be happy with.
For all of your elder care needs in Southern NJ and the surrounding areas call and talk to us at Home to Stay Healthcare Solutions (856) 321-1500.