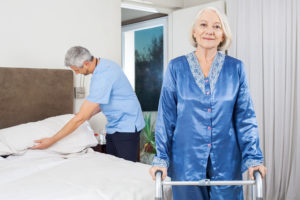 If your parent has recently been involved in an accident or illness that has produced limited mobility, both of you may find your lives altered dramatically. There are steps you can take to help them retain as much of their independence as possible.
Mobility Aids
Their primary care health providers such as their doctor, occupational or physical therapist can recommend what mobility aids will benefit your parent. Ones to consider include walkers, canes, wheelchairs, transfer boards, swivel seats for ease getting into cars, and risers for chairs and toilet seats.
Home Safety
You will need to revisit any home safety issues that may have developed due to limited mobility. This would include making sure there are no obstructions in common walkways. These could include furniture that has sharp edges that stick out or that has been placed in such a way as to produce a tripping hazard. Throw rugs should be removed as they can cause slipping when using a walker or cane. Any wires that cross pathways should be removed. Floors need to be un-waxed and obstacles and clutter should be removed. If your parent can no longer navigate stairs, you may have to consider installing a stairwell lift or, if their bedroom is upstairs, moving it downstairs, if possible.
Accessible
If it has been determined that your parent will need a wheelchair, their house will need to be assessed for wheelchair access. Certain modifications may be required. These include: doors and hallways widened, outside stairs converted to ramps, inside stair lift chair or wheelchair lift, roll-in showers with grab bars, and sinks and counters that can be reached from a sitting position. Put yourself in their position when addressing any issues related to height, width restrictions or mobility.
Elder Care Provider
An elder care provider can assist with the daily activities of living that your parent may now require help with. This includes bathing, dressing, meal preparation as well as light housekeeping, laundry and running errands such as grocery shopping. They can offer transportation to appointments with their physical or occupational therapist. It's important that loss of mobility does not leave your parent socially isolated. An elder care provider can offer that all-important companionship as well as ensure social activities outside the home such as classes and activities at the local senior community center and special events at community functions.
For elder care in Cherry Hill, NJ and the surrounding areas, call and talk to us at Home to Stay Healthcare Solutions (856) 321-1500.