Elder Care in Woolwich Township, NJ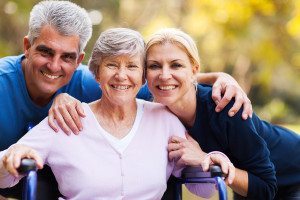 Being busy is a mantra that many families can claim. In today's modern environment, even with technology, cell phones, laptops, and free Wi-Fi in almost every single business across the country, it seems that people have very little time to connect with one another or take on certain tasks.
Many families provide care for their loved ones at home, especially elderly individuals who are dealing with various health issues or physical challenges. According to the AARP, there are an estimated 44 million family caregivers working in this country right now. The vast majority of them don't get paid for the work they do, either. These individuals also often experience an incredible amount of stress and anxiety as a result of the care they are providing.
Professional elder care is a great option that can alleviate a tremendous amount of pressure from the family member who is looking after an aging parent, grandparent, or other loved one. Below are three positive aspects of professional elder care services that can make a world of difference for the senior and his or her family members.
Experience. When a person hires an experienced elderly home care provider, that can mean many different things. The experienced caregiver could encourage the senior to get out and be more active once again. The elderly client may feel that the best years of their life are well behind him, but when they are encouraged to explore new interests and get involved in activities once again, it can be a tremendous emotional and maybe even physical boost.
Exercise. Experienced caregivers often encourage their elderly clients to get some level of exercise. It's important to consult their doctor before taking on a new exercise regimen, but most medical professionals agree that exercise is important for people of all ages, including seniors.
Time. When people have very little time, they can be stressed on a regular basis. Family members who are taking care of loved ones might seem as though they don't have any time for anything else, anymore. Relying on professional elderly home care could free up a tremendous amount of time to allow family members to pursue the things that are still most important to them. This could include spending time with friends, other family members, doing various activities, pursuing hobbies, and even volunteering within the community.
There are many other positive aspects of professional elder care for busy families, and the best way to learn more about it is to contact a home care agency in the area and find out exactly what they could do for an elderly family member.
For all of your elder care needs in Woolwich Township, NJ and the surrounding areas call and talk to us at Home to Stay Healthcare Solutions (856) 321-1500.