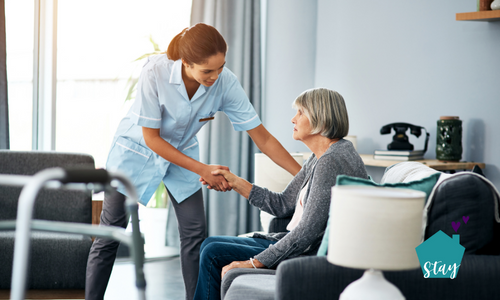 According to AARP data, about 53 million family caregivers—roughly one in every five Americans—provide unpaid care to their loved ones. The US Department of Health and Human Services estimates that nearly 70% of seniors will eventually require long-term care. The demand for services that provide care for the elderly will rise as this demographic trend unfolds.
Healthy young people often find it challenging to imagine a time in the future when they may require long-term care for themselves or their partner. Without retirement preparation, family members have no choice but to become caregivers. 
Financial planning is now increasingly focused on providing for professional long-term care at home, especially in the aftermath of the pandemic-led health uncertainties.
What is Long-Term Care?
Long-term care includes services that meet a person's physical or personal care requirements. These may be medical and non-medical assistance for people incapable of daily activities. A person may receive long-term care and support at home, in a community, nursing home, or assisted living facility.
Why You Should Plan for Long-Term Care
Planning for long-term care provides you time to research community resources, existing services, and their costs. Moreover, it enables you to make critical choices while you are still capable.
Care and Support
If you survive past the age of 65, there is a fair probability you will need some long-term care. Home to Stay co-owner and managing partner Andrew Dubler says: 
"With October being Long-Term Care Planning month – it is important to remember to take the time now to establish your goals and wishes. As a home care operator, I have seen too many instances of negative outcomes when people procrastinate and wait until it is too late to get these documents in order. Do yourself AND your family a favor and get them in order now."
Setting Aside Funds
Making a systematic financial plan for long-term care involves more than setting aside money for costs or insurance. You must decide how you want to be cared for, the type of care, who will offer the care, authorize family members to provide care, and devise a way to finance the expenses.
Less Strain on the Family
Long-term care planning puts less emotional and financial strain on you and your family. You include your family in decision-making without placing the burden of financial responsibility on them.
Protecting Your Nest Egg 
Financial planning lets you use your retirement assets and funds for things besides care, such as keeping your spouse's standard of living. You can leave your heirs an estate and preserve your savings.
Preparing for the Future
Long-term care planning helps ensure that you will be more independent. You'll have more options for obtaining care outside a facility, staying at home, or getting community-based services.
Long-Term Care: Who Needs It?
Needing help with daily activities due to age, illness, or disability means you need long-term care. According to estimates, 70% of those who turn 65 will eventually need long-term care, typically for three years. Baby Boomers aged 65 have a nearly 70% likelihood of requiring some long-term care services.
What are the Chances You May Need Long-Term Care?
Your likelihood of requiring long-term care could rise due to the following factors:
Age:

 Increases the risk progressively. 

Marital relationship status:

 Single people are more likely to need long-term care.

Gender: 

Women live longer than men and are at a higher risk.

Lifestyle: 

Bad diet and insufficient exercise contribute to an increased likelihood of requiring long-term care.

Well-being and genetic predisposition:

 This can be a significant risk in many cases.
The Levels of Long-Term Care You May Need
Given that individual needs are unique, you can't predict the long-term care that may be necessary. Long-term care levels include:
Assistance with day-to-day activities from an unpaid caregiver, usually a family member or companion

Services provided by a nurse, home health aide, therapist, or homemaker

Community assistance

Senior care in long-term establishments
Needs Change With the Passage of Time
Many patients who require long-term care do so gradually. Care requirements increase as you age. Others who are permanently incapacitated may require long-term care. If care requirements don't get met at home, they may need a professional nursing facility or more intensive care or supervision.
Long-Term Care for New Jersey Seniors in the Comfort of Your Home
We offer personalized at-home care for New Jersey's cherished seniors at Home to Stay (H2S) Senior Care Solutions. You can count on us to provide live-in or part-time assistance to your loved ones, whether they need it 24/7 or only a few hours a day. 
Depending on what your loved one requires, our experienced and compassionate team members can provide companionship, light housework, personal care, or a combination of these services. Contact us online or call us at 856-321-1500 or 732-820-9611 for further details.