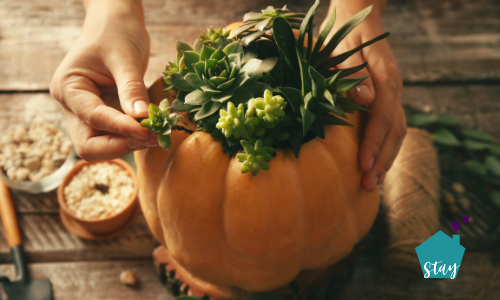 In an effort to reconnect and unwind, Home to Stay teamed up with Artis Senior Living of Evesham to host a unique experience – Terrarium Therapy. Terrariums are tiny ecosystems made with small plants, soil, rocks and other foliage that require little maintenance and can last for years.
Participants gave extremely positive feedback. Many noted a cathartic experience, taking time out of their busy schedules to relax, unwind, and "bury" the stress. 
There are many benefits to getting your hands dirty. Did you know that bacteria in SOIL can actually help alleviate depression? A 2012 Harvard Medical School study showed that mycobacterium in soil helps release serotonin in the prefrontal cortex. The prefrontal cortex is involved for behavior, speech and reasoning, along with mood regulation and personality expression. Increasing serotonin in the brain naturally can help combat depression, fatigue and chronic pain.
Terrariums can be a wonderful addition to you or your loved one's home. They are easy to care for and require little maintenance. Terrariums love a dry climate and do best with little water. Spraying your terrarium with a water bottle every 1-2 weeks is all you need to do! Remember to avoid direct sunlight and remove any dying plant leaves. 
Creating and caring for a terrarium can also help to improve hand dexterity. From The Journals of Gerontology by Oxford Academic, after age 60 there is a rapid decline in hand grip strength due to loss of muscle fibers. Other underlying conditions such as arthritis, neuropathy, dystonia or Parkinson 's disease may also cause loss of dexterity. This can make it difficult to perform simple everyday tasks such as buttoning shirts, opening doors, and managing personal care. Having a hobby that allows you to use your hands and be creative can prove beneficial, especially for those who feel as though their health conditions inhibit their activities. 
In an effort to keep your loved one as independent as possible, terrariums can also aid in keeping your loved one physically active! Maintenance requires action! Use your loved one's terrarium as an exercise tool. Ask your loved one to move their terrarium weekly so the sun faces the other side. This gives them an opportunity to get up and get motivated.
Caring for a terrarium may help provide a sense of purpose. They are easy to care for and fun to upkeep! Rocks, crystals, dried herbs and other succulents may be added to keep your tiny ecosystem, and creativity, thriving! Terrariums are the perfect project to help keep your loved one engaged.