When you notice that your aging parents are starting to cope with physical and cognitive challenges, you may feel compelled to keep your children away from them. You may feel as though you are protecting them from having to cope with the pain of watching grandparents go through confusing medical situations, or as though you are guarding them from the eventual pain of losing these grandparents. This isolation, however, only results in your children missing out on the opportunity to know their grandparents, and your parents losing precious time to spend with the younger generations. Keeping children a central part of senior care allows your aging parents and your children to develop wonderful memories that will last throughout their lives.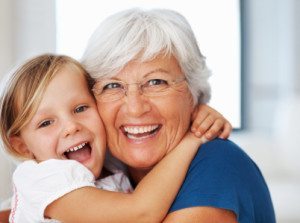 Encouraging your aging parents to continue fulfilling their roles as grandparents is a fantastic way to enhance their senior care by giving them something to look forward to and happy interactions that will boost their psychological, and therefore physical, health. Senior care providers will tell you that seniors that remain an involved elements of their families tend to enjoy greater health and higher quality of life than those who become separated from their relatives. This is because separation from the family can lead to depression, loneliness and the loss of will that will rapidly degrade a senior's physical and cognitive capabilities.
Senior home services can make letting your aging parents be active and involved grandparents easier and safer. A senior care provider is present to address your aging loved ones' physical and cognitive needs throughout the day so they are able to continue participating in activities with their grandchildren without placing the pressure of addressing their needs on you. Senior care services can also offer activities such as games and crafts that your aging loved ones and your children can do together. This encourages communication that will benefit all of them.
You may worry that your children will question the limited mobility or cognition of your parents, and that discussing their challenges will be distressing. You may be surprised, however, at how accepting and flexible children actually are when they are given the opportunity. Allowing your children to spend plenty of time with their grandparents gives them a chance to simply see their grandparents as people that they love, and not to worry about how they may be different from other adults that they know.
Should they have questions, however, don't hesitate to be honest with them. Explain to them in terms that they will understand the medical concerns that your parents have, but reassure them that these needs do not change who their grandparents are. Understanding the challenges that your parents face can actually make your children a valuable part of their senior care, as children tend to enjoy helping others, especially people that they love.
For all of your senior care needs in Turnersville, NJ and the surrounding areas call and talk to us at Home to Stay Healthcare Solutions (856) 720-0081