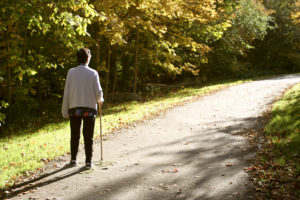 One of the most frightening symptoms that result from diagnosis is a loved one's tendency to wander. At a certain stage of the disease, many become disoriented and they no long remember familiar places. Six out of ten people that have been diagnosed with this disease will experience this symptom. Planning ahead can ensure your loved one's safety.
When to Expect
Though wandering is considered most common in the moderate stages of this disease, it can occur at any time. A person affected by this disease can become temporarily disoriented and confused, leading to their search for the familiar and the tendency to wander. There are clues that can help you determine the severity and need for additional support. Some of these include:
You notice your parent wandering from room to room at home, appearing disoriented as If searching for something that they cannot define.
Appears lost when you take them to a location they are familiar place. A new environment leaves them feeling very disoriented.
Talks about going to work even though they are retired or suggests a quick visit with a friend or family member that lives far away.
Lower the Chances
Wandering can happen. All you can really do is put the procedures and policies in place that diminish the chances and then have a plan of action should it occur. There are certain strategies that have proved useful when keeping your loved one's wandering to a minimum.
If your loved one has a routine to follow, they are less prone to wandering. Be sure to include daily activities and exercise. Wandering is, at times, a response to boredom.
At other times they may be in search of sustenance such as food or drink, or they may be wandering to fulfill a need such as the urge to go to the restroom.
Avoid areas with numerous people and loud noises that may become distracting.
Keep your loved one safe in their home by installing devises that let you know when a door or window is open.
Make sure your loved one is supervised. When you cannot be there, consider obtaining the services of a senior care provider who is familiar with the affects of this disease and can, besides helping with the daily activities of living, keep your loved one safe.
Contact people in their neighborhood to let them know of the possible issue and ask them to call you should they see your loved one walking on their own.
Once it's Occurred
Search the area for no more than 15 minutes before contacting the police. Keep a list of places where your parent might wander to in order to share with search people. Keep a photo and be sure you loved one wears ID at all times.
While wandering can be a great concern to family members, knowing you've taken all the precautions to ensure your loved one's safety can do wonders for instilling peace of mind.
Source
https://www.alz.org/documents/dsw/MASREnrollmentBrochure.pdf
https://www.alz.org/care/alzheimers-dementia-wandering.asp
For senior care in Southern NJ and the surrounding areas, call and talk to us at Home to Stay Healthcare Solutions (856) 321-1500.