January is Glaucoma Awareness Month and that means it's an important thing to consider when it comes to senior care. Glaucoma is a condition that affects the eyes and can cause a gradual loss of sight. It's a degenerative condition in which pressure increases within the eye and begins to damage the optic nerve. The optic nerve is what carries the signals (the things that we see) to the brain to be interpreted, which allow us to actually 'see.'
There are steps that can be taken, including surgery, to help reduce the effects of glaucoma, which can help ensure that the individual can still see. So what can you do if someone you know and care about is receiving senior care services, or who you might believe should receive some level of senior care and who is showing signs that they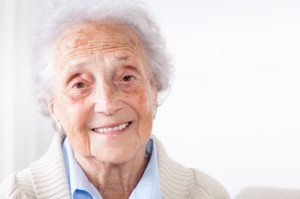 could be having a problem with their eyesight?
The first thing that should be done is to have them see an optometrist. An eye doctor, or eye specialist, will be able to test the elderly patient's eyesight and determine whether they are showing any signs of glaucoma or other eye related conditions. Glaucoma is one of those conditions that should be addressed as soon as possible. So January is a good month to make an appointment and have your elderly loved one's eyes examined.
If your loved one is receiving some form of senior care, you should sit down and talk to the care provider is you have any concerns about your loved one's eyesight and eye health. Discuss things that you might have noticed that could indicate that there may be a problem with his or her eyesight. The senior care service provider may have noticed some of the same things, or she might not have noticed anything unusual.
While glaucoma is generally a slow progressing condition, that doesn't mean you or your loved one should wait to make an appointment and have their eyesight checked. Too often, we get busy with everyday responsibilities that we neglect some other things that don't seem as important at the time. January is a good time to get your loved one in to see an eye doctor and be checked for glaucoma and other potential eye health conditions.
When it comes to senior care, whether you're the one providing it or you hired someone to help your loved one out, be aware of glaucoma and that the risk increases with age.
For all of your senior care needs in Southern NJ and the surrounding areas call and talk to us at Home to Stay Healthcare Solutions (856) 321-1500.