When most people think about volunteering in regards to seniors, they immediately think about the people to volunteer to go into nursing homes and living facilities in order to keep seniors company. These volunteers play games with the seniors, offer companionship, and may even share meals with the residents of these homes. Volunteering as a part of senior care, however, does not have to just be about someone volunteering for a senior. There are many benefits to a senior making volunteering an important element of his own senior care.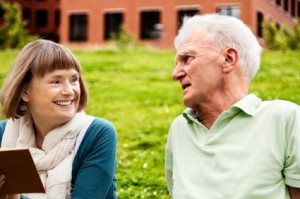 Volunteering offers many personal benefits including feeling good about yourself, and increased sense of worth and confidence, and the ability to spend time with other people. These benefits are the same regardless of the age of the person that is volunteering. A senior who is capable can truly help other people by volunteering in a wide array of capacities. When planning your aging loved one's senior care, consider whether he is capable of volunteering to help other people. Even if he is only capable of spending a short period of time in his volunteer efforts once or twice a week, you will notice that your senior will feel more energetic, be in a better mood, and be more focused on his own physical and medical well-being.
There are many opportunities for seniors to volunteer in their own community. Many seniors actually volunteer to be senior care volunteers for other seniors. This means that they go to nursing homes or assisted living facilities and provide friendship to the seniors living there. Volunteers of the same age are often welcomed in a different way than younger volunteers. This is because the residents feel more comfortable with the older volunteers, and are able to relax and be themselves.
Seniors can also volunteer to help the younger generations in many ways. Contact local elementary schools and see whether their kindergarten and first grade classes have reading groups. Many times these classes welcome in volunteers to read with young children, both for the experience and for the help with gaining reading skills. Spending time reading with young children can be extremely enjoyable for volunteers, particularly those with young grandchildren.
Encouraging your aging loved one to give back to the community through volunteering is a fantastic way for him to perceive his senior care not as a way that his life is becoming less, but a way that is becoming more. Volunteering will help him to feel important and see that he is still a vital element of society.
For all of your senior care needs in Cherry Hill NJ and the surrounding areas call and talk to us at Home to Stay Healthcare Solutions (856) 720-0081