Caring for Seniors with Dementia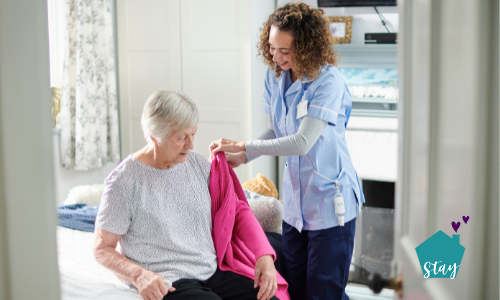 Dementia is a progressive disease, which will require increased care over time. As a caregiver, it can be daunting for you to provide the right kind of senior dementia care that your loved one needs. With professional support from Home to Stay Senior Care Services, you can handle the practical challenges that are associated with elderly dementia care. All of our caregivers working with our dementia clients are trained in the person-centered AlzBetter system. Here are the options available from Home to Stay for senior dementia care in Ocean County, NJ. 
In-Home Senior Dementia Care
Our in-home dementia care services are designed to assist seniors with early, middle, or late stage dementia. We can help ensure your loved one is safe and properly cared for in the comfort of their home while they live with dementia. We will customize the in-home senior dementia care plan according to the client's unique needs. 
Our experienced team will match the client with a dedicated and skilled care provider to best serve their needs. We are committed to making caregiving less overwhelming and more manageable so that, as a caregiver, you can focus on your other obligations. 
Home to Stay Senior Care services can be tailored to meet the specific needs of your loved one according to their dementia diagnosis. Our goal is to offer personalized care plans to make everyday life as safe, comfortable, and enjoyable for your loved one as possible. 
Live-In Senior Dementia Caregiver – 24/7 Round-the-Clock Care
Like most families coping with dementia, you may prefer that your loved one stays home for as long as possible. However, providing senior dementia care can be physically and emotionally draining. This is why we offer live-in senior dementia care services, which will let your loved one remain at home in a familiar and comfortable environment. 
Our trained and trusted caregivers will be available round the clock to assist with essential daily chores along with other activities that provide dignity, wellness, and enjoyment. With the right match, your loved one could even become the best of friends with the caregiver. With proactive and positive engagement, it is possible to boost the client's self-esteem and make them feel more productive and happier. 
Combination of Adult Day Services + In-Home Dementia Care
This custom service provides the best of both worlds – adult day care (drop-off at a facility during the day) and in-home care (sleep at home). Adult day care services are specially designed for the elderly who have cognitive impairment or dementia. The adult day care center will be equipped with advanced security features to keep your loved one completely safe throughout the time they are here. 
A host of social activities and stimulating opportunities are included as part of adult day care services. After your loved one returns home to sleep, our accompanying caregiver will look after their personal care and daily living activities at home. In other words, your loved one can have round the clock assistance with this combination of adult day services and in-home dementia care. 
Live-In Facility
If your loved one has moved to a long-term care or assisted living facility or is planning to move there, our Home to Stay dementia caregiver can visit the facility for personalized services and care. Our certified aides and live-in companions are fully trained and equipped to assist with personal grooming tasks, homemaking tasks, preparing and serving meals (including feeding assistance), helping with medications and doctor appointments, and social engagement.  Sometimes – having a little extra support for the initial few days/weeks goes a long way to easing the transition period and results in a more productive stay.
Home To Stay In-Home/Virtual  Consultation
As you explore care options for your loved one living with dementia in Ocean County, NJ, we invite you to meet with us at Home To Stay. Together we can discuss your caregiving needs, our services and practical options to provide the best care for your loved one. Get started today! Call 732-820-9611 or fill out our dementia care contact form.