Home Care Services in Woolwich Township, NJ – January is Blood Donation Month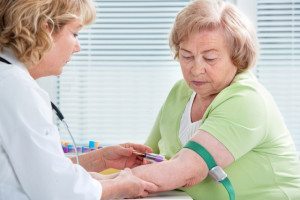 The topic of donating blood is usually not a popular one throughout the year, but since January is Blood Donation Month, it's a great opportunity to talk about this very important subject. For elderly individuals who rely on some form of home care services, they may have required some type of blood transfusion themselves in the past. It could've been the result of an accidental fall, injury sustained in an automobile accident or other mishap, or even having surgery. Blood transfusions are also used in certain forms of cancer treatments.
As a result, a lot of people who recover from serious ailments and surgeries at least show an interest in finding out more about the prospect of donating blood. Just because a person is considered elderly doesn't mean he or she can't donate blood any longer. There is no age limit for blood donors. If the elderly patient has expressed interest to an in-home care provider about possibly donating blood, plasma, or anything else that the American Red Cross or other blood bank centers require, this can make a good activity.
Finding out eligibility.
The only true way to find out if an elderly individual is able to donate blood is for them to speak to a technician at a blood donation facility. They may have to share some personal medical information with that individual, so it may be more comfortable for them to sit down and talk to that person directly rather than having an in-home care provider do it for them. Even having a family member find out may be uncomfortable for that elderly person.
Certain limitations.
Many people think that traveling outside the country will make a person ineligible to donate blood. This is patently false. Aside from a few nations, most people traveling around the world can return to the United States and donate blood as soon as they want to.
There are specific prescription medications, though, that could preclude somebody from being able to donate blood. There are also various medical conditions that might make it impossible for a person to give blood.
The most common form of blood donation is considered whole units. This would be about a pint of blood donated each time. The donor would have to wait a set amount of time before he or she was able to donate again. Plasma can also be donated and this may be a better option for some elderly individuals. In this form of donation, the blood is removed from the body, filtered through a machine where plasma is drawn out of the blood, and the blood is returned to the body. There is no blood loss for the patient and that may be more practical for somebody who has certain health conditions but who is still eligible to donate.
For all of your home care services needs in Woolwich Township, NJ and the surrounding areas call and talk to us at Home to Stay Healthcare Solutions (856) 321-1500.