Elderly Care in Turnersville NJ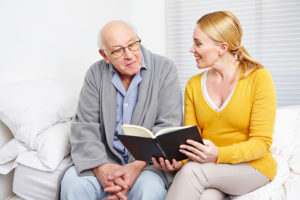 Caring for an elderly adult who is suffering from dementia can often feel like watching a person slip away. You remember the way that your aging loved one was prior to them developing this condition and it can be extremely difficult to watch as their personality and functioning change and you seem to be caring for someone who you do not even recognize. Making an effort to stay connected to your elderly parent as they progress through their journey with dementia and maintaining a meaningful relationship is not only important for supporting better emotional health and ensuring that your care efforts stay as dedicated and effective as possible. This also helps you to give your parent a higher quality of life and make memories for yourself that you will carry with you and treasure well into the future.
Use these tips to help you continue a connection with a senior who is dealing with dementia:
• Just be there for them. You do not have to feel compelled to talk every moment or have some sort of activity to fill all of your time with your aging loved one. Sometimes the most meaningful and impactful time spent together is the time when you are just present. Sit together quietly. Hold their hand or stroke their hair. Look into each other's eyes. Simply sharing the same space and offering the comfort and security of your presence can make a tremendous difference for both of you.
• Be willing to connect in new ways. You may be accustomed to sharing conversation with your loved one, putting together challenging puzzles, or watching specific television programs and discussing them. As your senior progresses through their condition, however, they might not be able to connect through these same ways any longer. Be willing to find the ways that you can connect and use them. If your parent now enjoys listening to music or manipulating clay, do that together, if they have developed an attachment to a stuffed toy or doll as many do, engage with them about that object. Be open to the ways that they communicate with you and the world around them and mirror it back to them.
• Experience life with them. You might find that your elderly adult starts to blend periods of time in their mind or think that they are back when they were younger. Attempting to correct them or make them realize what is "real" is only going to upset, frighten, offend, and embarrass your loved one. Instead, experience life with them and be willing to go along with their perceptions as long as they are not dangerous or otherwise harmful. For example, if your parent wants to tell you a story about something that their neighbor told them "last week" even though it was decades ago, just listen. As long as it will not negatively impact your parent's safety or health, let them go along with it and find connections and meanings through this shared experience.
Being a family caregiver for an elderly adult who is suffering from dementia can be one of the greatest challenges that you ever face. Starting elder care for them can truly help. An elderly home care services provider can be with your aging parent on a customized schedule that is specifically tailored to your loved one's individual needs as well as their personality. This means that they will get care, assistance, and support that is not just about their physical and cognitive limitations, or about keeping them safe and healthy, but about maintaining their emotional well-being and ensuring that their life is as fulfilling as possible as they age in place. As their family caregiver, this can be extremely meaningful.
You will not only feel confident that your aging parent is getting everything that they need throughout their later years, but you will also be able to step back from tasks that might be too physically or emotionally challenging for you so that you can reduce your stress and focus your energy and attention on other elements of your care efforts.
For elderly care in Turnersville, NJ and the surrounding areas, call and talk to us at Home to Stay Healthcare Solutions (856) 321-1500.