A senior who suffers from dementia needs some mental and physical stimulation to keep active mentally and physically and attempt to delay the progression of the disease. It also raises their quality of life to be actively involved in activities and social programs with other people.
Home care facilities that provide home care for the elderly may have access to a resource of information giving them ideas for stimulating activities. Families providing home care for elderly parents in their own home may not have access to such resources.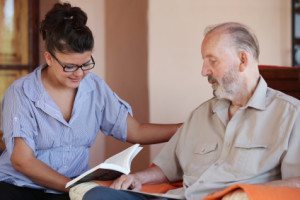 This list is not extensive by any means, but provides some good ideas to get started with:
A sing-along with favorite songs. Make sure to provide printed words for those who don't know all the words to a song. Sometimes sing-along DVDs can be used, but the participants may stay interested longer when there is a live musician present.
Favorite music on an mp3 player. For those with advanced dementia, playing favorite music from their era that they related to, can help to animate them and bring them to life. It can give them a feeling of rejuvenation.
Busy aprons. These aprons have activities attached to them, so bored or fidgety hands have something to do. There could be large brass rings to thread a shoelace through, a zipper to do up and undo, and a pocket that holds little items. Different colors, shapes and textures are good for visual and tactile stimulation.
Painting. Supervised painting for seniors with dementia can provide an excellent source of stimulation and also an avenue to release stress through creativity.
Modeling clay. Making shapes and figures from modeling clay and matching them to a story or event can be fun and stimulating for the elderly person with dementia. Devising a game to go with it can add another dimension.
Art therapy has been shown to benefit patients with a variety of symptoms of dementia. Art goes far beyond just painting and modeling. It can include many types of crafts, such as stringing beads on a necklace.
Picking, matching and sorting activities. These can be done with decks of cards or groups of matching and nonmatching items. Similar to memory match except that the elderly person can see the faces of all the cards and then tries to match them up by color or suit or number.
Simple card and board games work well when the grandchildren come to visit their grandparent who has dementia. They can help grandma along in the game if she needs it or they can have some friendly competition with grandpa. It's a fun way to bridge the generations and provide some meaningful and fun quality time together.
For all of your elder care needs in Woolwich Township, NJ and the surrounding areas call and talk to us at Home to Stay Healthcare Solutions (856) 321-1500.