Elder Care in Turnersville NJ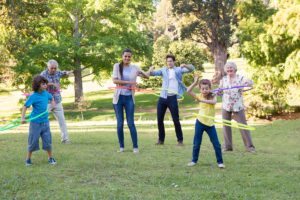 If you and your elderly loved one are thinking about hosting a Memorial Day picnic or gathering at your loved one's house, this special week-long observance is made just for you! This week (May 23-29) leading up to Memorial Day is celebrated as National Backyard Games Week to remind celebrators that Memorial Day celebrations can be made more memorable and fun by incorporating some fun games into the event. In addition, backyard games are usually easy and convenient to set up and they are a great way for people of all ages to participate in some entertaining physical exercise. During National Backyard Games Week, encourage your loved one to try out some new activities that they can do right in their own backyard. Who knows? They may even discover a new hobby or form of physical activity that they can continue to do all summer long. Here are just a few examples of some fun backyard games to try:
Badminton
Badminton sets and nets and available now at most big-box department stores, sporting goods stores, and toy stores. Nets are relatively easy to set up and take down in the backyard. Badminton has a slower pace than tennis, it can be played in teams, and it requires the player to practice their hand-eye coordination. These are just a few of the reasons why badminton is a great backyard game for people of all ages.
Croquet
Croquet is a relaxing game that allows plenty of time for taking and catching up. It is great game to play with a group of friends who enjoy socializing and a little bit of friendly competition. Like badminton, it is an easy game to set up and take down when finished.
Bocce
Bocce or related forms of the game have been around for centuries. This classic backyard game is a tried and true way to have fun at your next outdoor get together! Playing bocce is a great way to be active and socialize at the same time.
Egg Toss
Catching an egg on a spoon is not as easy as it looks! To have an egg toss, give all participants spoons, have them pair up and face each other and attempt to toss the egg back and forth, catching it on the spoon. After a few rounds, increase the distance between the players for an added challenge!
For elder care in Turnersville, NJ, and the surrounding areas call and talk to us at Home to Stay Healthcare Solutions (856) 321-1500.