Elder Care in Mt. Laurel, NJ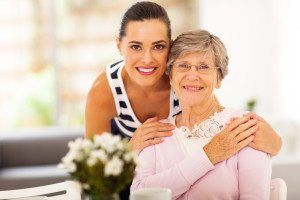 Every May families around the country take the time to celebrate the women who made the family possible and who continue to do whatever they can to take care of the people who they love. Mother's Day is a wonderful opportunity for you to tell your mother how much you love her, how much you appreciate everything she has done for you, and what she has meant to you throughout your life. While you are likely to also spend some time on this day showing your appreciation for the mother of your spouse, the focus of that holiday is mothers. On October 25, take some time to show your appreciation specifically to your spouse's mother and acknowledge the contribution she has made to your life by celebrating Mother-in-Law Day.
Being on an elder care journey can be difficult no matter who the seniors are, but sometimes it is even more difficult when the seniors are not your own parents. Mother-in-Law Day is a wonderful opportunity for you to refocus your attention from the challenges you face while caring for these seniors to the love and appreciation you feel for them. Taking time to express your love, gratitude, and acknowledgement for your mother-in-law offers an emotional boost for both of you, strengthens your relationship, and can also improve your relationship with your partner by reaffirming your commitment to his mother and to your journey as a family.
Use some of these ideas to inspire you for your own Mother-in-Law Day celebration:
• Have a traveling meal. Mother's Day is all about brunch, so do something different while still enjoying a nice meal out by planning a traveling meal for your mother-in-law. Start with an appetizer at one restaurant, move on to an entrée at another restaurant, and finish up with dessert at a third. This is a fantastic opportunity for you to try different flavors, indulge in favorite dishes from a variety of locations, and make some fun memories together. If you choose to bring along your father-in-law, make sure to invite their elderly health care services provider so you can focus your attention on your mother-in-law while still feeling confident in their health and wellbeing
• Write her a letter. If your mother-in-law lives at a distance, and even if she does not, surprise her by writing her a letter telling her how much she means to you, thanking her for the contribution she made to your partner's life, and expressing your gratitude for being able to be on an elder care journey with her. Mail this letter through the conventional mail so that she has a tangible reminder of how much you care about her
• Make her a scrapbook. Your mother-in-law is in your life because of your partner, so make sure to remind her of how much you love him and how important he is in your life. Make a scrapbook that shows your entire relationship and write in it how much he means to you and thank her for her role in making him into the person who you chose to share your life.
For all of your elder care needs in Mt. Laurel, NJ and the surrounding areas call and talk to us at Home to Stay Healthcare Solutions (856) 321-1500.