Bathrooms Can Be Dangerous for Seniors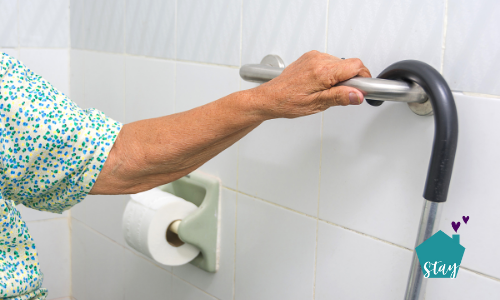 When it comes to dangerous areas inside the home for aging adults, bathrooms are at the top of the list. Although it may seem unlikely, a hefty majority of slips and falls around the home occur inside the bathroom. Wet and slippery surfaces, clutter, and lack of safety equipment in washrooms are contributing factors to why 80% of bathroom injuries are caused by slips and falls. For aging adults aged 65 years and older, falls are often much more serious, resulting in fractures and bruising which can lead to more urgent complications. Even a few simple updates can make seniors' daily life less dangerous and give family members peace of mind.
Bathroom Safety Equipment
Fortunately, there are various types of equipment that can be implemented into seniors' bathrooms for maximum safety. Installing grab bars in the right locations can provide much-needed balance when entering and exiting the shower onto slippery surfaces, standing up and sitting down from the toilet, or simply just maneuvering around the bathroom. 
Utilizing a waterproof chair – often referred to as bath chairs or shower benches – can also provide the balance that's been lost as a result of aging. Non-slip mats can be extremely helpful with balance as well – avoid throw rugs or other floor mats that are unsecure. Additionally, although replacing tubs with walk-in showers can be an expensive update, it provides ease of access for everyone, including wheelchair-bound seniors.
Inside the shower, replacing the static shower head with a flexible, hand-held head with an extended hose can reduce unnecessary movement and exertion of older adults. Having a shower head that can adjust water pressure and patterns can assist those with more sensitive skin as well. When turning the shower on and off, some seniors with arthritis struggle to turn knobs – consider adding an on/off switch or an ergonomic handle for easier use.
Lighting
Poor lighting in bathrooms is another cause of slips and falls for seniors who may have substandard vision. Inadequate lighting combined with other elements such as steam make it exceptionally difficult for aging adults to see exactly what they are doing. Consider replacing current bulbs with brighter ones, but not so bright that it could startle them and cause dizziness or loss of balance.
Keeping Essentials in Reach
Simply ensuring that essential bathroom items are easy to find and within reach can make seniors trips to the washroom uncomplicated and safer. Soaps, shampoos or other toiletries placed in high, hard-to-reach areas should be moved to body level. A shower caddy can assist in gathering essential shower items in one place for simplistic use and accessibility. Even using a plastic drawer storage unit to house other toiletries can be beneficial compared to reaching for tall cupboards.
At Home to Stay, our caregivers can assist with all of your home care needs in South and Central Jersey and the surrounding areas. Call us at our Cherry Hill office at (856) 321-1500 OR our Red Bank office at (732) 820-9611.