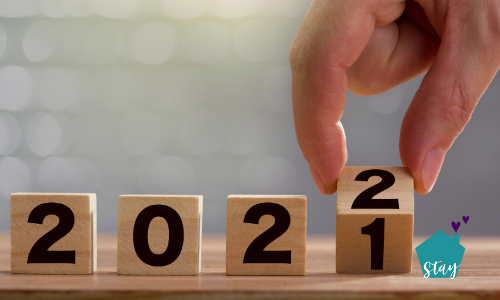 Goodbye 2021, it was an interesting year for all of us.  The coronavirus was still very much with us throughout 2021 and it does not look like it is going away anytime soon. 
A Lookback at 2021
We at Home to Stay have been affected by COVID on multiple fronts, most tragically with the loss of clients that have fallen ill to the virus. I have distinct memories of our clients and the struggles of our caregivers getting sick before the vaccine was available.

Our office staff changed tremendously over the last year due to the dramatic changes of our industry. Let us explain. See, we had a great marketer that was bringing on new families that needed care but we did not have enough caregivers to accept the new clients into our Home to Stay family. Instead, all of our resources shifted towards maintaining our current client base and making sure that they had the coverage they required.  We had several legacy caregivers decide they did not want to continue to be caregivers because of the risks associated with the virus either to themselves or their loved ones.  It has been a challenging time, but we continue to persevere.
Onto the more positive news…
In May, we had the opportunity to hire a new administrator for Home To Stay, Walt Rogers.  Walt worked for AlzBetter (sister company to Home To Stay) for 3 years before joining the Home To Stay team in May 2021.  He brings great organizational skills, leadership, strong knowledge of technology, and most importantly empathy and compassion to his role. 
In February, we hired a new HR manager – Lisa Murrell. Lisa has really grown into her role and the challenges of recruiting and leading a team in this ever changing climate.
In July, we promoted one of our best field workers ever to a scheduling position, Angela Andrews. It was a bold move that has paid off as she is doing amazing work. It was a difficult decision for her to leave the field because she loved working with her clients so much, but she realizes that now she can help many people. Then we hired another new scheduler, Vanessa Tutt-Francis with 20 years of industry experience and she has been a great addition to our H2S culture.
In August, we opened a new office location in Red Bank, NJ to expand our service area footprint to now serve Ocean and Monmouth counties. We have hired a wonderful leader, Tracy Connelly who has been overseeing the operations in that region. 
Although the virus did, and continues to provide obstacles and a lot of damage; it has also put a focus on the importance of home care providers and the role our company plays in caring for our nation's greatest asset – our senior population. I have to say that for the 11 years Home To Stay has been in business – our team has never been stronger!
Home To Stay is grateful and appreciative for the opportunity to provide care to those in need!
Welcome 2022, we have been waiting for you!