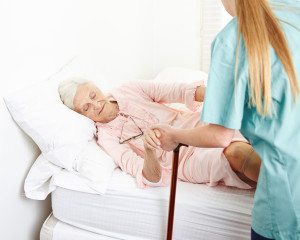 If your elderly loved one is at a greater risk for developing Alzheimer's disease, it's important that you become familiar with the mental and physical signs. You may already be familiar with the mental signs of Alzheimer's disease, but would you recognize the physical symptoms? Here are some common physical signs of Alzheimer's disease in seniors that you should know about:
Poor Grooming, Hygiene and Dressing Habits
The forgetfulness that comes with Alzheimer's can cause a formerly tidy person to neglect their hygiene, grooming and dressing habits. If you notice that your loved one is wearing the same clothes every day or maybe he or she has stopped brushing their teeth or hair, then there is a chance that he or she may be in the early signs of Alzheimer's.
Difficulty with Familiar Tasks
People with Alzheimer's have trouble completing tasks that they could do without conscious effort before the onset of their illness. If a senior starts to have trouble operating things like the TV remote control or the microwave oven, you may want to consider arranging a memory test.
Repetitive Behaviors
Your loved one may forget what they have just done, causing him or her to do it over and over.
Decreased Fine Motor Skills
Someone who is developing Alzheimer's may find it difficult to accomplish everyday tasks that are done with his or her hands that you may take for granted.
Wandering
Wandering is a common physical sign of Alzheimer's. Mild incidents of wandering may be among the earlier signs of Alzheimer's, but by the time wandering is severe, it is already obvious that there is a problem.
Increased fatigue
Losing interest in life is a common symptom of a person with Alzheimer's. If your loved one begins to sit alone in the dark or seemed constantly fatigued, he or she may be in the early stages of Alzheimer's.
Insomnia
Trouble sleeping can be common problem among the elderly, but for a person with Alzheimer's their day/night cycle can get out of whack.
Recognizing these physical signs will better enable your home care agency to provide the best possible senior care to your loved one. Always consult your loved one's doctor or healthcare provider if your loved one begins to show signs of Alzheimer's. There is currently no cure for the disease, but with early detections, there are things that can be done to reduce the symptoms or make them more manageable.
Source
http://www.alz.org/alzheimers_disease_know_the_10_signs.asp
http://www.helpguide.org/articles/alzheimers-dementia/alzheimers-disease.htm
For all of your senior care needs in Mt. Laurel, NJ and the surrounding areas call and talk to us at Home to Stay Healthcare Solutions (856) 321-1500.