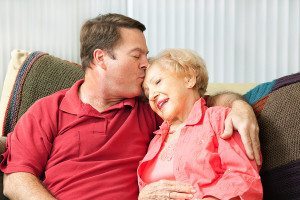 By the time Jacob's mother was waking up in the hospital, he already knew that she was going to need extra care at home. He had a conversation with his mother a little more than a year earlier where they discussed the prospect of long-term care should anything 'happen' to her. The stroke that she had was that something and Jacob knew that she didn't want to move to an assisted living facility or a nursing home. She wanted to live out her life in the home that she had shared with Jacob's father for more than 40 years.
They didn't discuss many of the options that are available for providing home care for someone and his mother would essentially imply that she assumed that he, Jacob, would take on that role. He wasn't too keen on the idea, given that he had a busy schedule as it was and that he didn't know much about being a caregiver for an elderly patient.
He didn't know if anything would happen to his mother, though. She had always been in relatively good health through the years and a stroke was the last thing that he could even imagine. But now he was faced with the prospect of trying to manage his own affairs while making sure that she had everything that she needed. He was also going to need to learn a lot about stroke recovery and as he wandered the corridors of the hospital in the days following the stroke, he was hoping for some alternative, something that could provide him with a way out of this situation. It wasn't that he didn't care for his mother; he loved her very much. It was just that he didn't know if he could offer what she needed.
That's when he came across a brochure about home care providers. He had heard about them in passing, but he didn't know much about them. He began to read and decided to contact one of the agencies in town. He learned that there were several home care providers that the agency had on staff with experience dealing with stroke recovery.
He also found out that the cost was far more affordable than he would have even imagined. In fact, it would cost a fraction of what nursing home care would cost, or even assisted living.
If you're a reluctant caregiver for a loved one, there are alternatives that could provide them with the best level of care, and allow you to focus on what's truly important with you and your elderly loved one: your relationship.
For all of your senior care needs in Turnersville, NJ and the surrounding areas call and talk to us at Home to Stay Healthcare Solutions (856) 321-1500.