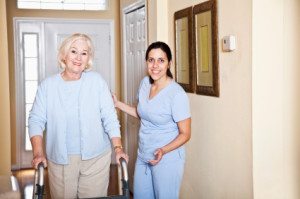 When a person gets older, for the most part, caregiving is provided by spouses, friends, and relatives just like you. Your elderly loved one means a lot to you and needs your help. This is a work that receives little recognition and can involve some stress. In order to have a good relationship remain between you and your aging parent, you should place enough importance on yourself. Too many caregivers, even those who have the help of senior care services, take care of their parent or relative at the expense of their own careers and health. This doesn't help you or your parent, because in the long term, there might develop tension and bitterness. If you are happier, you'll be able to help your parent better and the two of you will continue through life in love and friendship.
Caregiving Challenges
Caregivers feel that the benefits of their caring for a senior parent do outweigh the costs to themselves. Reality still plays a part, however, because there are difficult and sometimes demanding problems you'll be dealing with on perhaps a daily basis. The last thing you want is to let those issues come between you and your parent. If lately you've been feeling lonely, overburdened, feeling financial loss, underappreciated, or out of shape, keep reading for some easy solutions! Try doing even one of these this week and we promise you'll feel the difference it makes in your life.
Talk a lot with the parent you are caring for. There's a lot of benefit from telling your mother or father about your future plans and your own life. Keeping things private is just another wall of tension that could become serious. Befriend your parent and let them feel useful to you as you care for them. This chance for socializing is a goldmine for health and happiness.
If another relative asks if they can help, take them up for their offer. Have a list made of things that they could do and be practical in assigning them some of the tasks.
Don't forget your own spouse/partner and family. You shouldn't feel guilty being away from your parent to make sure you can be with other people you love.
Check out your local community for caregiving resources. Are there book clubs or other interest groups you can take your parent to for their enjoyment and some time off for you?
What are your elderly parent's goals? A lot of seniors want to age in place – in their own home. This is very understandable; talk to them about what you can do together to help them stay at home as long as they can.
For all of your senior care needs in Mt. Laurel, NJ and the surrounding areas call and talk to us at Home to Stay Healthcare Solutions (856) 321-1500.