Each year in February, people across the United States celebrate the history and accomplishments of African Americans as part of Black History Month. The celebrations are marked with a variety of activities, such as events at museums, public schools, universities, healthcare institutions, as well as within communities. 
Home to Stay Celebrates the Role of Black People in Healthcare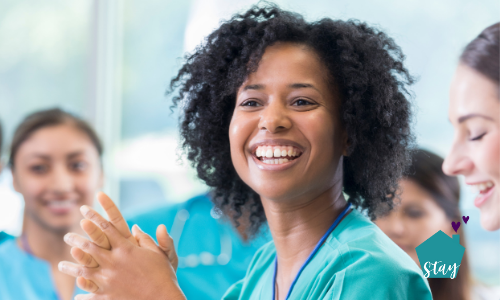 At Home to Stay Senior Care Solutions, we believe this month gives us an opportunity to reflect on and acknowledge the presence of Black men and women in healthcare throughout history. We are proud of the strong presence of Black people currently in the field of healthcare, including at Home to Stay. We are especially grateful for their valuable contributions in the area of non-medical home care, enabling seniors and disabled members of our community to age at home.
The founder of Home to Stay, Andrew Dubler, says: "The timely focus on health and wellness during Covid times puts the spotlight on the seriousness of healthcare issues, including home care for the elderly that continue to challenge our communities. As we celebrate the role of African Americans and their achievements throughout history this February, I encourage everyone to take decisive action to protect our loved ones and families, including seniors who need home care for dementia." 
Who this Month Honors 
Black History Month honors Black people from every period of American history, starting with the individuals first brought over from Africa in the 17th century, to the thriving and successful African American community across the U.S. today.
Some of the prominent figures that are frequently remembered during this month include Dr. Martin Luther King, Jr., who championed Black rights during the mid-20th century; Thurgood Marshall, who in 1967 became the first ever African American justice to be appointed to the U.S. Supreme Court; and Mae Jemison, who was the first African American female astronaut to go to space in 1992.
Remembering a Pioneer in Healthcare 
Rebecca Lee Crumpler (1831-1895) became the first Black female physician in the United States in 1864 after graduating from the New England Female Medical College. That same year she established her medical practice in Boston. Dr. Crumpler had worked as a nurse prior to attending medical college.
In 1883, she wrote and published a book from notes she compiled over her medical career, "The Book of Medical Discourses." She said in her book that she "sought every opportunity to relieve the suffering of others." Home to Stay is inspired to follow the ideals of exemplary Americans such as Dr. Crumpler to contribute to the health and wellness of seniors with dementia who may need professional home care.