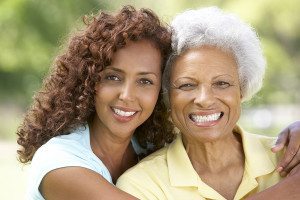 One thing that I can't stand is listening to people bicker and argue over and over about certain things. For the longest time, my mother and sister would argue about nearly anything and everything that came up. If my sister and I were visiting our mother for Mother's Day or some other holiday, my sister would complain about the food that her mother prepared. Now they are arguing about elder care.
I don't spend as much time with my mother as my sister does, so I have to take her word for certain issues. She claims that my mother is having more trouble taking care of herself. Our mother is 82 years old and has recently been widowed from a man I barely knew. She had been with him for more than 20 years, and my sister believes that he had been providing support for her during these past several years.
At issue between my mother and sister is the fact that my mother doesn't believe that she needs somebody to help her with basic care. Every time my sister goes over to her house, they end up fighting about different things related to home care for the elderly.
My sister claims that our mother is not doing her laundry, has issues maintaining her own personal hygiene, and is not eating well. I have told my sister over and over again that our mother is an independent woman who never asked for help from anybody.
It got so bad that my mother would end up calling me to try to convince me that she was right and then the phone would ring and it would be my sister calling for the same reason. I told them that I did not want to get involved, but when I was talking about this with a good friend of mine, I was convinced that my approach was wrong.
At issue is whether or not my mother is safe living alone without any type of support. My sister feels that she has become the de facto elderly home care provider and she has a number of other obligations to fulfill as well. I finally decided to spend more time visiting my mother and I was able to see some of the things that my sister had been talking about. While I didn't want to fight with my mother, I learned more about home care for the elderly and shared some of that information with both my sister and my mother.
When we began focusing on positives, the things that our mother would still be able to do if she had an elder care provider working with her, the hostility and arguments began to cease and my mother began to realize just how beneficial home care for the elderly could be for her.
For all of your elder care needs in Cherry Hill, NJ and the surrounding areas call and talk to us at Home to Stay Healthcare Solutions (856) 321-1500.