Are there limits to what live in care for seniors can or should do to support your elderly loved one? Absolutely. Sometimes, though, it's difficult to understand or realize that. You think that since this person is getting 'free room and board' (which they're not, they're earning it, often 18 hours a day or more), that they should be able to do anything that you need done in your mother's or father's home.
However, it's time to step back and realize that there are limits and it's important to understand those limits and to respect them, even if you don't necessarily agree with them. Okay, so what are we talking about here? Basically, when you have a live in home care provider who is helping your mother, you may think that their responsibilities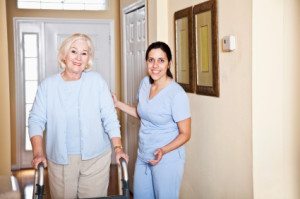 extend beyond providing health care, assistance getting dressed or in and out of the shower, and with basic meal preparation.
In other words, too many families think that the 24 hour home care provider for their loved one is a glorified housekeeper. That is blatantly not the case, and it's important to realize that.
A live in caregiver is responsible for the health, safety, and welfare of your loved one. This means that they may be required to assist with some basic chores around the house, such as meal preparation and helping them do the laundry. This does not mean that they are supposed to do a thorough cleaning of the house every week. If you want that done, then hire a professional cleaning service.
It also doesn't mean that the live in caregiver is supposed to rake the leaves or shovel the driveway or walkways during the winter snowstorms. Hire a professional to come in and take care of that, or come over and do it yourself.
It also doesn't mean that the care provider is meant to be at the beck and call of your loved one. While your mother may be unable to do some of the things that she did in her youth, if she is fully capable of getting out of bed, up from the recliner, or somewhere else and making her way to the kitchen to make herself some tea, she should do it.
Live in care for seniors is not about having a butler or maid who is there to do your bidding or your mother's bidding. It's about providing the right level of support so that she can remain living in her home while she recovers from an illness, or simply deals with the limitations that her age has placed on her and what she can or can't do.
For all of your live-in care needs in Cherry Hill, NJ and the surrounding areas call and talk to us at Home to Stay Healthcare Solutions (856) 321-1500.