When you are considering hiring a home care services companion for your aging loved one, it is important that you clarify your expectations, and those of your aging loved one, or the first day that such a care provider is in the home. Knowing what to expect from an in home care provider will ensure that this is the appropriate option for meeting your aging loved ones ongoing senior care needs, and also that your loved one will not take advantage of the services of his home care services provider.
When you first begin discussing hiring a home care services agency with your aging loved one, make sure that you are very clear that you are hiring an in home care provider, not a nurse or a made. There are distinct differences between these individuals, and while there may be some overlap in the type of care and assistance that they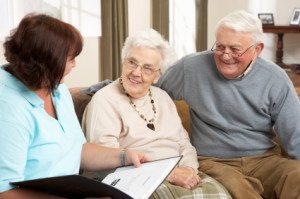 provide, they each have their own distinct set of responsibilities and limitations. Carefully evaluate your loved ones ongoing needs so you can determine if a home care services companion truly is the right option for helping him enjoy the highest quality of life possible.
Some of the things ask yourself when clarifying your expectations of the home care services agency include:
How many hours per day does your loved one need care?
Does your loved one need a caregiver who is awake and alert throughout the night?
Does your aging loved one have complex medical needs that require treatment and medications he is not capable of administering himself?
Does your aging loved one have extensive mobility or cognitive challenges that make it difficult or even impossible for him to fulfill even basic activities of daily life unassisted?
How much do you intend on contributing to his care in terms of time and effort?
Will you be helping to clean your loved one's home, is he capable of cleaning, or will you need a professional to take care of his responsibilities for you?
How active do you expect your aging loved one to be, and how much of this is the responsibility of the caregiver?
What are your expectations of the caregiver in terms of keeping your loved one entertained? Do you have a problem with this caregiver watching television with your loved one, for example?
It is possible that after evaluating your expectations of a care provider you realize a home care services companion does not offer all of the services that you need or expect for your loved one. This may mean that you should choose to transition your loved one into an assisted living facility, or that you will need to hire other professionals to ensure all of your loved ones are met on a regular basis.
For all of your home care services in Cherry Hill, NJ and the surrounding areas call and talk to us at Home to Stay Healthcare Solutions (856) 720-0081