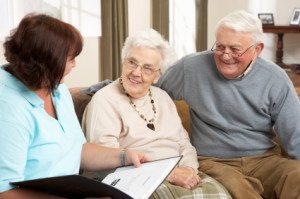 Hiring an in-home care provider for your loved one can be a challenge for some family members. For one, if you don't know much about home care services or what they provide, then you might not know where to begin with your search.
No matter whether you're going to hire an in-home care provider through an agency or as an independent contractor, it's important that you have some key questions in the interview with them.
Interview? Yes, interview. An interview is essential so that you and your elderly loved one, for whom the care will be provided, can get a sense of the person who will be the caregiver. If you skip the interview, then you could end up hiring an individual who might not have the right experience, who does not get along with your loved one, or who has other issues that could become crucial at some point in time.
Below are three important questions that you should ask home care services during the interview process.
How much experience do you have working with elderly individuals who have ___ (any particular condition your loved one has)? What you're looking for here is someone who has direct experience working with elderly individuals who were in the same situation that your loved one is dealing with now. If the person doesn't have related experience, but you believe they would be ideal, then you should find out what other experience they have that might be beneficial for your loved one.
What is your availability? If the caregiver is not available during the times that your loved one would require assistance, then this isn't going to work out for them. You can't expect them to be available around the clock if you're only interested in a few hours a day, so be flexible, but if your loved one needs more help in the morning rather than the evening, then this is an important consideration.
What references do you have? References can mean the world, especially if you're planning on hiring an independent contractor. Checking on those references is also crucial. Don't accept one or two names of family members; look for work related references that you can verify. Most home care services will conduct certain background checks on the caregivers they hire, but this is about your loved one's care, so make sure that you understand their history. It will also give you an opportunity to learn more about them during the interview.
When you're hiring home care services, the interview process with the caregiver is an important one. Be prepared and you'll hire the right caregiver for your loved one.
For all of your home care services needs in Cherry Hill, NJ and the surrounding areas call and talk to us at Home to Stay Healthcare Solutions (856) 321-1500.