The ability to express yourself is one of the most important aspects of being human. Being able to communicate with others enables you to express your emotions, connects to the world around you and advocate for your own care and well-being. Unfortunately, for seniors conversation and communication in general may be difficult to come by. Home care services can help your senior loved one participate more effectively in conversation, and learn to communicate in new ways that address cognitive issues that may be presenting challenges.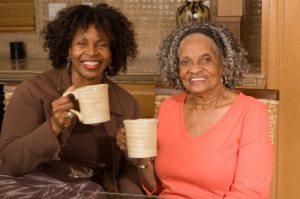 An in home care provider will spend a considerable amount of time with your aging loved one. This means that your senior will become accustomed to this person, and comfortable with her presence. As time passes she will help him learn effective means of communication that may be vastly different from the other ways that he communicated prior to developing the physical or cognitive limitations that he is currently coping with. Simply through the art of conversation on a regular basis, home care services can encourage your aging loved one to feel more confident about himself, and more in control of his daily life.
Consider how you would feel if you were never spoken to, never asked how you felt, and never given the opportunity to express your opinion as to decisions that are being made regarding your life or care. This is often how seniors feel in regards to ongoing care. Home care services are a way to give seniors back at their voice, and encourage them to utilize it in an ongoing basis. Having someone to talk to is much more than just entertainment for seniors. Overcoming feelings of isolation and loneliness can have a significant effect on symptoms of depression, worsening Alzheimer's disease and dementia and relationship difficulties. Encourage your aging loved one to communicate as much as possible, in any way that he can. This will increase his self-worth and provide validation that he is still acknowledged and appreciated.
If you are concerned that your aging loved one has stopped communicating, don't hesitate to discuss your concerns with his in home care provider. The goal of home care services is to encourage seniors to enjoy the highest quality of life possible, and this means the ability to communicate. Conversation is about expressing yourself and ensuring that your thoughts are known. Encouraging your aging loved one's home care services provider to make conversation an integral part of everyday care will help him to regain his confidence in communication and in himself.
For all of your home care services in Cherry Hill NJ and the surrounding areas call and talk to us at Home to Stay Healthcare Solutions (856) 720-0081