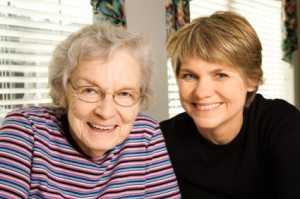 Taking on the role of caregiver for a loved one is a great responsibility. You want to make sure that you provide the highest level of care for your loved one, but you also need to make sure that you are taking care of yourself.
Too often, though, the home care providers of the world put their care on the backburner. They don't think much about themselves; they only think about the elderly individual who relies on them.
If you plan on being able to provide the highest level of care for your elderly loved one for more than a few days, then you need to employ a few important strategies. This article is the first of three that focus on the most important aspects to being, and staying, a high quality caregiver.
Learn to Take Care of Yourself
It shouldn't be something of a choice, as though you tell yourself, 'When I have time to worry about me, I will.' It should be the first thing that you say to yourself in the morning when you wake up and the last thing you say when you go to bed: I have to take care of myself today, and tomorrow.
That's because if you don't take care of yourself first and foremost, you're going to be less effective at being the home care provider that you are right now.
You take care of yourself by knowing your limits. When you know your limits, you'll know when it's time to rely on some help in caring for your elderly loved one. When you don't understand your limits, you're going to push yourself further and further and that's going to result in burnout, or too much stress, which will negatively impact the care you offer.
Get exercise. You may think running back and forth is enough, but it's not the right kind of exercise. Do at least 15 minutes of high endurance, high cardio workout every day. If you can't find 15 minutes to get this done, you're not going to be effective as a caregiver.
Finally, take time for yourself. When we give up the things that we enjoy, including spending time with friends, it's going to impact us negatively. In order to be a potent and effective caregiver, it's vital that you have time for yourself.
Taking care of yourself will allow you the opportunity to take care of your elderly loved one in a more effective manner.
For all of your caregiver needs in Turnersville, NJ and the surrounding areas call and talk to us at Home to Stay Healthcare Solutions (856) 321-1500.