Senior Care in Turnersville, NJ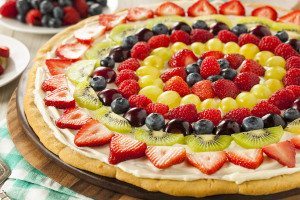 Dessert is just about everybody's favorite part of dinner, but just because your elderly loved ones look forward to a sweet indulgence after their main meal does not mean that they cannot also get some extra nutrition along with their treat. This elder care recipe is for a sweet and refreshing fruit pizza that takes advantage of the natural beauty and candy-like flavor of fresh fruit combined with a buttery crust and protein-packed yogurt for a cool, good-for-you dessert perfect for the summer months.
Throw together this recipe yourself as a surprise for your aging loved ones, or get all of the ingredients ready so your parents can enjoy making it with their elderly health care services provider as a mentally-stimulating activity with a delicious reward at the end.
What You'll Need:
For the crust:
2 cups flour
Butter-flavored cooking spray
1 cup cold butter
1/2 cup powdered sugar
Mixing bowl
Pastry cutter
12-inch pizza pan
For the "sauce":
4 ounces cream cheese, softened
4 ounces vanilla Greek yogurt
Mixing bowl
Hand mixer
Rubber spatula
For the toppings:
Strawberries
Blueberries
Kiwi
Grapes
Bananas
For glaze:
1 teaspoon lemon juice
2 tablespoons cornstarch
1 cup pineapple juice
1/4 cup sugar
Saucepan
Whisk
Mixing bowl
What to Do
Start by preparing the crust
Preheat the oven to 350 degrees
Prepare the pizza pan by spraying it with butter-flavored cooking spray and set aside
Put flour and powdered sugar into a mixing bowl
Use a pastry cutter to cut in the cold butter until the pieces are the size of peas. If you do not have a pastry cutter readily available, use two forks or a knife to cut the pieces of very cold butter into the flour
Press this mixture onto the prepared pizza pan to form the crust
Put the crust into the oven and bake for 12 to 15 minutes or until it is lightly brown
Allow the crust to cool completely before adding the sauce and toppings
Next, make the "sauce"
Put the cream cheese into a mixing bowl and beat with the hand mixer until softened and smooth
Add in the vanilla Greek yogurt and continue to beat until fully combined
If desired, make the mixture slightly sweeter by adding 1/3 cup of powdered sugar and mixing until fully combined
Once the crust has cooled completely, use the rubber spatula to spread an even layer over the entire crust
Next, prepare the toppings
Cut the larger fruit into pieces, creating a flat surface when possible
Arrange the fruit pieces on the top of the pizza, creating patterns or circles for an appealing presentation. If your elderly parents have preferences about fruit, arrange the toppings so that some slices have particular fruits and others have other fruits so everyone can choose their favorites
If using bananas, consider sprinkling them with a small amount of lemon juice to slow the natural browning reaction
Now, prepare the glaze
Combine all remaining ingredients in a saucepan over medium heat
Whisk thoroughly and increase heat to bring the mixture to a boil
Continue cooking and whisking until the mixture thickens, approximately 1 to 2 minutes
Allow to cool slightly and then use a spoon to drizzle the glaze over the entire fruit pizza
Refrigerate the pizza for at least an hour before serving
For all of your senior care needs in Turnersville, NJ and the surrounding areas call and talk to us at Home to Stay Healthcare Solutions (856) 321-1500.