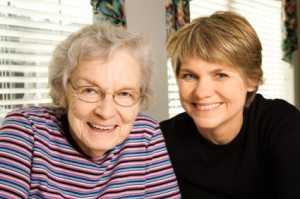 When a person becomes a caregiver, the stress of fulfilling the needs of both their own family and  a senior loved one can quickly become overwhelming. Sometimes, no matter how strong, capable or organized a person thinks they are, there are times when they need a little TLC themselves.
In many cases, family members take on the role of being the primary care provider for their elderly loved ones. They may do this for any number of reasons, including feeling obligated, believing that it is their responsibility, or even because the want to. Some do it because they believe that it would be much cheaper than hiring a professional in-home care provider.
The reality is that while there are many reasons why someone would take on this role of being a family caregiver, there are going to be times when it all becomes too much for them. They are going to deal with the stress that is involved with this level of care, but may end up having problems in their own life that make it difficult for them to continue offering the right level of care to their loved one.
In these instances, it's a good idea to offer some level of care to this type of caregiver. How you go about doing that will depend on where you live in proximity to that individual and your resources. You could certainly offer to take on some of the responsibility, giving that other individual more time to devote to their life.
Or you can hire professional in-home care providers. Too many people overlook this option for a number of reasons. One of the most common is that they don't realize how affordable home care can be. They think that it would be tough financially, or they believe that they can do just as well on their own.
Caregiving for an elderly individual can be challenging to do by yourself when you have a family and your own responsibilities. If someone in your family is providing care to an elderly loved one by themselves, and you want to make sure both the caregiver and the senior are well cared for, contact a home care agency in the area and you'll discover just how affordable it can be. It's one of the best ways to care for the caregiver while also ensuring the elderly individual has the best home care possible.
For all of your caregiver needs in Mt. Laurel, NJ and the surrounding areas call and talk to us at Home to Stay Healthcare Solutions (856) 321-1500.