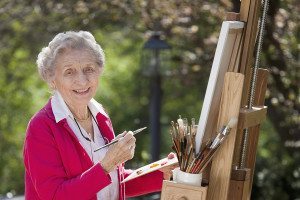 Interesting research has indicated that seniors who are happy also enjoy greater mobility into their years than those who are unhappy. The findings don't necessarily prove that happiness causes greater mobility, but it does suggest that the happier senior enjoys life more and therefore enjoys being active which in turns helps the joints stay younger and stronger. There are definitely positive physical effects produced by happiness.
It's been shown that a positive outlook and the enjoyment of all life brings to predict a longer life. Those with lower levels of enjoyment in life are more likely to come down with medical problems.
Strategies for bringing zest to your senior's life
You know your elderly loved one better than perhaps anyone else. You know their history and what their goals, dreams, aspirations in life are. What about hobbies and interests? Here are some strategies to bringing some zest for life into your senior's life:
Try a pet. A cat, small dog or other cuddly animal can really liven up your senior's life and give them someone else to think about and care for. Pets are a great addition to the lives of seniors.
Music, especially favorite music from your senior loved one's era. Listening to music is relaxing, comforting, uplifting and encouraging.
More social activities. Involve your senior in community events, family get-togethers, senior activities and so forth.
Invite family members and friends to come visit your senior loved one. Just a visit is a huge pick-me-up for a senior.
Get a home care provider to come in a few days a week or This agreement is valid only for the current online schools year. even daily. A caregiver is someone to talk to, someone who will listen and a trusted companion as well as an assistant to help with the everyday tasks of life.
Is there a hobby your elder would love to try? How about rekindling an old hobby from past days they quit doing because they were busy with work or family?
Involve other family members as much as possible. They may even have some great ideas you didn't think of.
If your senior loved one enjoys good enough health to travel, consider taking them with you on your next family vacation. If that's a long way off yet, what about a day trip somewhere local like a museum? If they aren't feeling well enough to do a lot of walking, rent a wheelchair or electric chair for the day.

Regular exercise rejuvenates all parts of the body and mind, giving a person energy

and

vitality.
When you have zest for life and are in a positive mood, it wears off on your loved one too. Sometimes it just starts with one person and soon everyone can feel it!
For all of your caregiver needs in Cherry Hill, NJ and the surrounding areas call and talk to us at Home to Stay Healthcare Solutions (856) 321-1500.