Caregivers in Cherry Hill, NJ – 5 Tips for Protecting Your Senior Loved One from Internet Fraud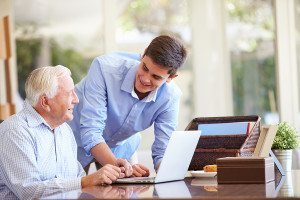 The Internet is a huge and wonderful resource filled with information, entertainment, and communication opportunities. As a caregiver, the Internet can be a powerful tool for helping you give your elderly parents the highest quality of care possible and encouraging them to live socially active, mentally curious lives. As useful as it is, however, the Internet can also be a risky place to explore, especially for those who are not as familiar with how it works or who are not aware of the risks it holds. Each year thousands of seniors fall victim to Internet predators who specifically target the less tech-savvy and more trusting aging population.
This does not mean that your job as a caregiver is to keep your elderly parents from utilizing the Internet or enjoying all that is has to offer. Instead, your role should be to educate your parents on the benefits of browsing the web as well as what they can do to keep themselves safe and secure while venturing through cyber-land.
Guide your elderly parents through these tips to help keep their Internet explorations and safe and secure as possible:
• Avoid extremes. It is easy to spot extreme behavior in people you interact with in person, but somehow it is more difficult to see this manipulation when it is in written form on the Internet. Your elderly parents would probably not give into a person standing outside a store shouting proclamations to every person that walks by that they won a prize or threatening that they have to take action or something bad will happen. Unfortunately, they may fall for essentially the same thing when online. Instruct them never to click on banners or emails that promise prizes or free deals, give ultimatums such as "your account will be frozen", or request any form of personal information.
• Rely on the familiar. Your aging parents know how their friends and family members speak, so make sure they keep this in mind when reading emails supposedly from those people. Make sure they understand the concept of a person's email account getting hacked and tell them that if they receive an email that looks like it is from a familiar address but has a different style than that person's usual speech, has many misspellings, or features strange wording, do not ever click on links inside it and report it as SPAM to the email company.
• Be wary of imposters. You feel comfortable giving your personal information to the Social Security Administration when standing in their office talking to someone in a uniform, but you would never walk up to a van with a Social Security Administration logo magnet on the side and give them the same information. Ensure your elderly parents are wary of emails and other communication that supposedly comes from official organizations, including the email company, their bank, payment processing companies, government agencies, and even their doctor. Make sure they know that none of these official organizations would ever request sensitive personal information over email and would never ask that this information be inputted into an unsolicited form. If this happens, have them report it not just to their email company but also to the official organization if possible, or tell you so you can follow the proper channels.
• Protect privacy. Just as your parents keep their home locked, they should keep their Internet "locked" as well. Instruct them on how to come up with secure passwords for their accounts and to always keep this information completely private so others do not have access to their desktop, email, or social networks.
• Look for the "S". Pay close attention to the extension at the beginning of a URL for any site you, your parents, or your children visit. If it reads http:// it is not a secure website. If, however, it reads https:// it has security encryption, making it safe for online shopping and other transactions.
For all of your caregiver needs in Cherry Hill, NJ and the surrounding areas call and talk to us at Home to Stay Healthcare Solutions (856) 321-1500.