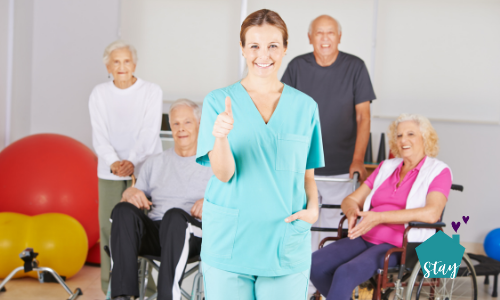 Home to Stay has always strived to deliver the highest level of care possible to all of our clients, however caring for an individual with dementia can be challenging and, at times, overwhelming. Dementia care is complex and often encompasses a large variety of behaviors and emotions. In the past, we have found many of our caregivers struggling to meet the needs of the people they are working with. As a result, our owners sought out partnership with AlzBetter – a company renowned for their dementia care training prowess – to present a new offering to our clients: The ELITE Program.
A Unique Dementia Care Training Program
The ELITE Program offers any person living with dementia an opportunity to work with caregivers who have received specific training for dementia care. These caregivers are specifically chosen to participate in our Elite Trainings because of their prior experience, rich backgrounds, and/or proven track record of high-level care. Once chosen, they are required to complete rigorous online training, followed by an in-person session with peers, led by an AlzBetter Dementia Expert. During this training, caregivers will learn a variety of useful information – from symptoms and behaviors associated with the different types of dementia to helpful strategies for delivering care.
AlzBetter's training programs focus on many different principles, including looking for root causes and making each day meaningful. While these may sound obvious, they can be difficult to keep in mind while working with someone living with dementia. When we say, "look for root causes," we mean that many behaviors may have explanations that are not obvious. For example, a caregiver may notice that their client repeatedly wants to go to the bathroom and will continuously take them without considering that the person may just be uncomfortable due to the temperature, volume of the television, or any number of other factors.
After completing their Elite training, caregivers are qualified to take the Alzheimer's Association's EssentiALZ exam, which will grant them certification as a Dementia Care Professional. These caregivers can begin working on Home to Stay's Elite cases, which pose more difficult opportunities and higher pay rates. 
Access to a Certified Dementia Coach
In addition to the extraordinary caregivers who work within the Elite program, each case is also overseen by a certified dementia coach. The coach works closely with the Home to Stay Elite caregivers, as well as the families they service, ensuring that the care team has all the resources they need to provide high-level care. This helps to manage challenging behaviors and unique circumstances to produce an overall better outcome. 
Home to Stay is always looking for new Elite caregivers! We recommend that motivated caregivers who want to further their education and challenge themselves by taking on more complicated clients inquire about the Elite Trainings by emailing or calling the office. Training is typically held on Wednesdays in our Cherry Hill office. Join our Elite team, and help us improve the lives of clients living with dementia.