Caregivers in Woolwich Township, NJ – March is Optimism Month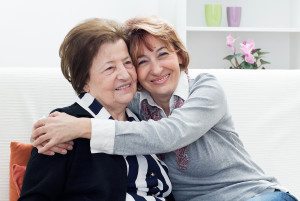 To be honest, it can be extremely difficult to remain positive when you're a family caregiver. You might have a number of concerns about your elderly loved one. You may be worried about their health. Maybe your aging father had a heart attack and you worry about another one occurring. Maybe your elderly grandmother had a stroke and you don't fully understand what to expect in the coming weeks and months.
It can be incredibly stressful for family caregivers. That's one of the main reasons why it's so important to have a serious discussion about hiring professional in home care providers, whether the senior requires a basic home care aide or more detailed services, such as a physical therapist or visiting nurse.
No matter what's going on in the senior's life, it's important for the caregiver to remain positive as much as possible. There will be times when it doesn't seem possible to be positive, especially when facing a number of physical or mental challenges or when the senior is trying to recover from a major health emergency or surgery.
However, it is possible and here are seven ways to develop a more positive attitude for anyone who is considered a family caregiver.
1. Fake it until you make it. This adage harkens to the idea that if you smile, act positive even when you're not, it's going to lead to a more positive attitude in yourself. Positive attitudes are contagious, not to just to those around us, but to ourselves as well.
2. Plan ahead. When you evaluate the situation and make appropriate plans to deal with it, it's going to provide a better opportunity to feel confident for the future.
3. Be a dreamer. There's a reason why dreamers tend to be happy in life. It's because they are constantly seeing the future and hope conjoined in the same thought. Envision things your elderly loved one can still do in the future.
4. Encourage activity. While you want to keep your elderly loved one safe, being active and getting exercise is important for people of all ages, including seniors.
5. Reminisce. Looking through an old photo album, seeing old newspaper clippings, and much more can help the senior relive some great moments from their life. That can bring a smile to their face, some great laughs, and it can help both of you feel good in the long run.
6. Reach out to other family members. Even though people are incredibly busy in modern society, there are videoconferencing features such as Skype and Google Talk that offer an opportunity to see people you're talking to. That can provide many wonderful emotional benefits for the senior who may feel confined to their home.
7. Get out. Spend time outside. Enjoy the nice weather. The sun is the only true way for the body to synthesize vitamin D (US News), which can have tremendous benefits for the body.
These are just a few ways to maintain a positive attitude when you're a family caregiver. March is Optimism Month, but keep these ideas in mind all year long.
For all of your caregiver needs in Woolwich Township, NJ and the surrounding areas call and talk to us at Home to Stay Healthcare Solutions (856) 321-1500.