Home Care in Woolwich Township, NJ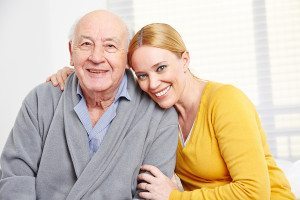 Perhaps your father has been going through numerous health challenges in recent years. At 75, living alone, you worry about his well-being. As a result, and especially since you only lived a few minutes away from him, you took it upon yourself to check in with him on a daily basis. That may be fine in some situations, but as people age and their physical capabilities diminish and health issues increase, that five-minute check-in may not be enough. That's why you need to seriously begin discussing the prospect of professional home care.
Professional home care is usually in the form of home care aides. These are individuals who can assist with a variety of basic daily living tasks. They could help your father get out of bed in the morning if he has difficulty doing it on his own. Even if he is still able to manage this task on his own, you need to evaluate his safety as he does so.
Has his strength diminished so much that he feels uncomfortable sliding out of the bed that is positioned relatively high? Does he have a tendency to lose his balance and only maintain it by leaning on the nightstand or some other table?
What about preparing meals? If your father is relying on frozen foods or prepackaged meals, those usually have very limited nutritional value and can't compare to a high quality home cooked meal. An experienced home care aide would be able to assist him in preparing meals by cutting vegetables, preparing meat, and even doing a significant portion of the legwork to ensure he eats relatively healthy.
There could be a number of reasons why your father says he's fine and he had no issues, but you see the residual effects over time of the challenges he faces on a daily basis. Wanting to be there for him is noble, but it is not an adult child's responsibility to take care of their aging parent. Nothing beats an experienced home care aide for providing comfort, security, and even safety for elderly individuals living at home, whether they are alone or still with their spouse who make also be facing number of challenges.
Gather information about the services available in your area before sitting down to discuss home care with your father. The more information you have on hand, the easier it's going to be to convince him, as well as yourself, that this is the right course of action to take now.
For all of your home care needs in Woolwich Township, NJ and the surrounding areas call and talk to us at Home to Stay Healthcare Solutions (856) 321-1500.