Home Care in Cherry Hill, NJ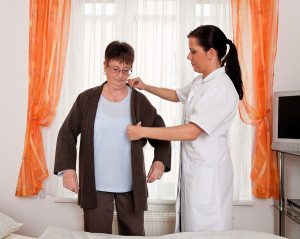 Depending on the severity of the stroke, there may be a number of steps an elderly individual has to go through in order to maximize their chances of making a full recovery. If the stroke is significant enough, a full recovery may simply not be possible, but regaining as much mobility, speech, and other faculties may require extensive physical therapy and the support of professional home care.
There are many different types of home care services a person can rely on when recovering from a stroke. They may need the assistance of multiple forms of home care, such as visiting nurses, physical therapists, and even occupational therapists.
For many seniors recovering from a stroke, a home care aide has the ability to assist them with a variety of basic tasks throughout the day. This could include, but of course isn't limited to:
Help getting into and out of bed in the morning and evenings
Help to plan and prepare healthy meals
Assistance getting dressed, brushing teeth and styling hair
Help with transportation to and from therapy sessions or other necessary appointments
Provide companionship during difficult or stressful recovery
It's easy for family members to step up and want to be there for their aging loved one, especially during a serious health crisis such as a stroke, but without the proper level of experience, valuable time can be lost by not doing what's necessary to aid in that recovery.
For example, many people immediately assume that exercise is not ideal for somebody recovering from a stroke or even a heart attack. However, many doctors recommend exercise as a vital tool in the recovery process. Not only does exercise help to stimulate oxygen flow throughout the body with increased circulation, it also helps strengthen the heart and other muscles that may have lost some level of mass during the hospitalization.
A home care aide can offer companionship and encouragement to the senior, especially for somebody who lives alone. This can be incredibly important for somebody who doesn't have many family members or friends living in the area. Feeling isolated and alone and as though they can no longer do many things for themselves can potentially lead to depression, withdrawal, and other emotional challenges.
Just having another person coming to the home on a regular basis can be incredibly beneficial at motivating the senior to continue doing what's necessary to help in the recovery process.
For all of your home care needs in Cherry Hill, NJ and the surrounding areas call and talk to us at Home to Stay Healthcare Solutions (856) 321-1500.