Elder Care in Mt. Laurel, NJ – One Senior Learns the Value of a Home Care Provider to Handle the Difficult Challenges of Parkinson's Symptoms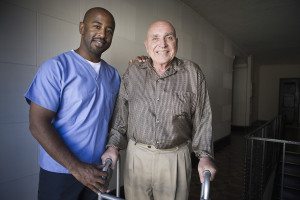 When Jack was diagnosed with Parkinson's disease, he was 62 years old. At the time, the symptoms he noticed were relatively minor. A small tremor in his pinky finger was the first one that warranted attention to the fact that something was going wrong with his body.
The diagnosis was an enormous shock for himself and the rest of his family. His wife of 35 years was going to be tasked with taking care of him, according to the rest of his family. His eldest son implored them both to consider hiring a professional elder care provider, especially when things became more challenging for him on a regular basis.
Jack didn't want this to happen, though. He didn't know much about the disease in the beginning, only that it would affect his motor control and ability to take care of himself as it progressed. He figured his wife would be able to do a decent job supporting him and, by relying on other family members and friends, they should do fine on their own.
Eight years later, Jack's tremors, motor ability, and other aspects of his life are much different. He has noticed a change in his wife's demeanor and her usually calm positive outlook. His eldest son revisited the notion of hiring a professional caregiver and Jack finally was ready to listen.
Through the years his son had been gathering a great deal of information about various elderly home care services that were available in the area. There were two agencies that had experienced caregivers who had worked with individuals with Parkinson's in the past. They would know exactly the best ways to support Jack in his daily and weekly endeavors.
More importantly, Jack's son told him that would allow his wife the opportunity to pursue her own interests once again. She had given up many things that she used to enjoy, including knitting with friends, gardening, and many other activities, all in the name of supporting Jack the best way she could. She wasn't the type of person who would ever complain about the tasks laid out before her.
Jack finally agreed it was time to hire professional elderly home care and sat down to talk about it with his wife. At first she was reluctant, seeing it as a failure on her part, but when Jack and their son explained the benefits that experience could bring, she began to see the possibilities for her own life and that made things seem much better for all of them.
For all of your elder care needs in Mt. Laurel, NJ and the surrounding areas call and talk to us at Home to Stay Healthcare Solutions (856) 321-1500.