Alzheimer"s disease can cause your aging loved one to forget to do what you may consider as simple daily activities. You may think that a person suffering with Alzheimer"s disease is going to forget big things such as people"s names, appointment set of been made or how to get from place to place. The reality is, however, that a senior suffering from Alzheimer"s disease will have difficulty thinking through and remembering a wide variety of things. One of the things that your aging loved one may forget to do throughout the day is eat. It can be difficult for him to remember if he ate a meal, or when that meal was. Alzheimer"s disease, as strange as it sounds, can even make your aging loved one forget what the feeling of hunger is. You may find that your aging parent has gone for a day or two without eating a meal if you aren"t there to remind him or prepare the meal for him. Instead of constantly worrying, in-home senior care could be the best option for you.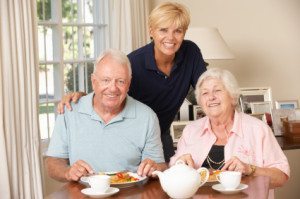 In-home senior care companions cannot only remind seniors with Alzheimer"s disease when it is time to eat, but also help with preparation of light meals and snacks. This will ensure that your aging loved one gets enough to eat, but also that what he eats is balanced and will help support his health. This can be especially important if your aging loved one is also coping with medical conditions such as congestive heart failure, diabetes or high blood pressure. Such conditions generally require special dietary considerations, which can be extremely difficult for a person with Alzheimer"s disease to remember. A senior care companion can keep these dietary restrictions organized and prepare food that fits in with the guidelines, as well as provide nutritional support and advice for the senior and the family.
If you want to be more involved with what your aging loved one eats, you can always prepare meals ahead of time and keep them in the freezer. Leave your loved one"s home care companion a list of the food that is available, when your loved one should eat it and instructions for how the food should be prepared. Be open to the recommendations of your home health care companion also, however. She may know of fantastic recipes that your senior will love.
 For all of your senior care needs in Mt. Laurel, NJ and the surrounding areas call and talk to us at Home to Stay Healthcare Solutions (856) 720-0081