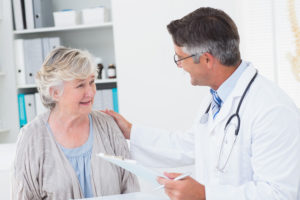 Confronting the reality that your aging parent has congestive heart failure can be intimidating. With nearly 6 million adults throughout the United States suffering from the condition, however, it is one of the more common conditions experienced, particularly by older adults. This means that your parent is not alone in their suffering and you are not alone in your family caregiving. Being prepared to go through this condition with dedication and commitment to finding out everything that you can about it and the care that your parent needs will help you to not only feel more confident, but also to give the type of care your parent needs and deserves.
One of the most important things that you can do when talking with your parent's doctor about their condition is to ask questions. This will clarify not only the condition, but also your parent's experience and what you can do to help them be as healthy as possible.
Some of the questions that you and your parent should ask their doctor when discussing their congestive health failure include:
• How bad is the failure? Congestive heart failure is not something that just "is" or that every person will experience the same way. The damage to the heart, and therefore its failure, can be far more extensive in some people than others, so it is important that you know how far their condition has progressed in order to care for them properly.
• How does this condition impact their other health challenges? Just like any other new or worsened health condition, the development of congestive heart failure can make a tremendous impact on other health issues that your parent is already facing. Understanding this impact can help you to make the decisions that you need to make to ensure that they get the best care possible as they age in place .
• What lifestyle changes would help manage the heart failure? While many people immediately think of medications, surgery, or other treatments when it comes to helping a senior manage heart failure, these are not the only options. Many lifestyle changes can help your parent to manage their condition and help keep themselves healthier as they comply with their care guidelines.
If your parent has recently been diagnosed with congestive heart failure, now is the ideal time for you to consider starting senior care in Mt. Laurel for them. Your aging parent will need care and support to comply with the treatment guidelines presented by their doctor and to keep up with the management of their condition throughout the rest of their lives. Having a senior home care services provider in the home with them ensures that your parent gets the support, assistance, and care necessary to manage their personal needs, challenges, and limitations in the way that is right for them. This personalized approach helps your parent to stay healthy, strong, and safe, while also encouraging the most independence and autonomy possible as they age in place.
Source
http://www.cdc.gov/dhdsp/data_statistics/fact_sheets/fs_heart_failure.htm
http://www.heart.org/idc/groups/heart-public/@wcm/@hcm/documents/downloadable/ucm_484199.pdf
For senior care in Southern NJ and the surrounding areas, call and talk to us at Home to Stay Healthcare Solutions (856) 321-1500.