Spring brings to mind many things, but one of the main things that people think about when the weather is warm and the flowers are blooming is weddings. June is still one of the most popular months to get married, and if a special person in your life is planning on being a traditional June bride or groom, now is the time that the entire families getting excited about preparations for the big event. One of the most meaningful things you can do as a senior care provider is to help make an elderly loved one feel like a special part of the wedding preparations and wedding day.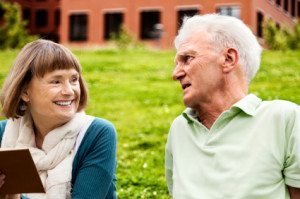 Weddings tend to be exceptionally meaningful for aging adults. These beautiful events represent a fresh beginning and the celebration of love and commitment. Often aging adults will begin reminiscing about their own weddings, which can be extremely emotional. If their spouse is still living, your aging loved one is likely to feel more connected to him, and want to spend more time with him. If she has lost her spouse, however, she may feel sad and lonely. Helping your aging loved one cope with her emotions related to the wedding is an important element of your role as a senior care provider.
Handling her emotional responses to the wedding is not the only way that you can make your elderly loved one feel acknowledged and special during this time. If you are helping with the planning of the wedding, recommend that special plans be made to involve your elderly loved one. This can mean bringing her along when shopping for the wedding dress, asking her opinion regarding flowers, or integrating a special passage or song into the ceremony itself. If your aging loved one has lost her spouse, consider a meaningful memorial such as reserving a seat for him and placing a single white rose on the seat as a reminder that he is still with the family at this special time.
Some important wedding day considerations to keep in mind when planning senior care for the day include:
Consider the venue for both the wedding and the reception in terms of how your aging loved one will get around if she has mobility issues
Plan for a special person to bring your aging loved one down the aisle during the family portion of the processional
Make sure that your loved one is seated at a table close enough to the couple to hear all of the speeches
If your aging loved one copes with mobility issues, cognitive challenges or other problems that necessitate a more intensive level of care, consider hiring a home care provider for the days leading up to the wedding, and the wedding day. This care provider can provide care and assistance for your aging loved one during the busiest times of the wedding preparation, and during the wedding itself. This can provide everyone involved with a tremendous amount of peace of mind so that everyone is able to relax and enjoy the festivities.
For all of your senior care needs in Cherry Hill, NJ and the surrounding areas call and talk to us at Home to Stay Healthcare Solutions (856) 321-1500.