November 5, 2015 at 3 pm
Please join AlzBetter in welcoming Tom and Karen Brenner of Brenner Pathways to our quarterly speaker series.  AlzBetter is excited to bring their expertise, knowledge and perspective to the AlzBetter Team.  Tom and Karen will speak about engagement techniques for people with dementia and building connections between the care recipient and care partner (family – professional or both!). 
The core of the AlzBetter program is identifying custom activities through our lifestyle tool and then building them into an individualized schedule that also provides feedback (QOL tool).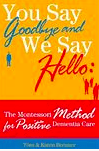 Brenner Pathways is a wonderful compliment to our program to help increase engagement (on our individualized schedule) and also identify new sources of activities.  
Please be sure to join us on Thursday, November 5th at 2:00 pm for this free webinar from industry experts Tom and Karen Brenner!
The AlzBetter Team