Home Care in Mt. Laurel, NJ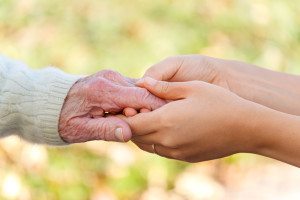 There are two basic types of arthritis: Osteoarthritis and rheumatoid arthritis. Osteoarthritis is the type in which the joints become worn down by regular activity. Rheumatoid arthritis is an inflammatory type that occurs when the immune system is not functioning properly.
There is also gout which is basically caused by crystals that collect in the joints. A person could also be diagnosed with lupus, psoriatic arthritis, and septic arthritis. For any senior who is dealing with some type of arthritis, getting proper elder care can make a world of difference in helping them cope with the pain and get involved in activities once again.
Osteoarthritis is a degenerative joint disease that is caused by an overuse of the joints. It is most commonly found in older individuals and can also be the consequence of high physical activity, such as sports, but it also can be the byproduct of obesity in which a person is placing increased pressure on their joints due to excessive weight.
A person who suffered a significant injury in their younger years may also be at increased risk of developing osteoarthritis as they get older. The most common symptom of osteoarthritis is pain in the affected joint and there are numerous treatment options that can help, including certain medications prescribed by the doctor, hot or cold compresses, stretching exercises, and more.
Rheumatoid arthritis, on the other hand, is an inflammatory type and it affects women far more often than men. In fact, according to the American College of Rheumatology, approximately 75 percent of people affected by rheumatoid arthritis are women. It is an autoimmune disease and that means the immune system is attacking certain portions of the body.
Over time, the inflammation can lead to joint damage and even deformities. It can be extremely painful and make it difficult to take part in various activities.
For any senior who is dealing with some type of arthritis, it's important that they seek proper care. They should certainly consult their doctor to find out what type of treatment options are available, and if they are giving up certain activities because of the excessive pain in their joints, relying on professional home care for the elderly can help alleviate a significant amount of the pressure from their body, allowing them to focus more on other activities.
May is Arthritis Awareness Month and for any elderly individual who is experiencing the pain and discomfort of arthritis, considering professional home care for the elderly could potentially make all the difference in their life and can help them continue doing activities they most enjoy.
For all of your home care needs in Mt. Laurel, NJ and the surrounding areas call and talk to us at Home to Stay Healthcare Solutions (856) 321-1500.