In-Home Care: Homemaking Duties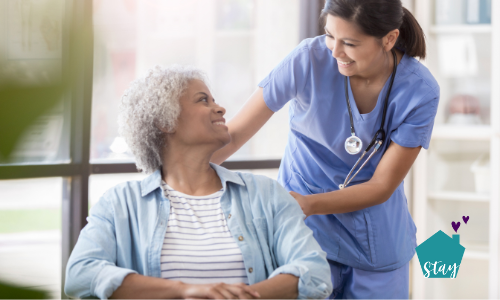 Seniors often suffer from many debilitating health conditions. When conditions like Alzheimer's, dementia, arthritis, and age-related muscle loss begin to worsen, normal independent life becomes increasingly hard and homemaking duties are often unattended to.
In this situation, families have a difficult decision to make. They have two main options: 
Send the senior to an assisted living facility

Choose in-home care or care within an independent facility
More people prefer staying in their homes to moving to a facility and living with total strangers; however, in-home care of an afflicted senior is not easy. Family members often don't have the time or energy to spare for homemaking duties for seniors. 
Hiring in-home personal caregivers can make things a lot easier for all concerned parties. Personal home care involves a wide range of activities. Below we identify the most common homemaking duties for seniors that are covered by a private caregiver. 
Assist in Activities of Daily Living (ADL)
Bathrooms are often a dangerous place for seniors with problems related to vision, coordination, and mobility. Due to various health problems, people often cannot take baths or go to the toilet on their own. 
A personal caregiver can help them fulfill these daily activities in a safe and dignified manner. Apart from keeping their bodies clean, the caregiver can also help seniors look presentable, through proper dressing and grooming (shaving, trimming hairs, etc). 
Mobility Assistance
This can include many things. It could be something as simple as helping a person get up from the bed or a chair. When you suffer from a bad back or reduced muscle strength, even these basic movements can seem challenging. 
The caregiver can also help the client move from point A to point B within the house, while safely navigating stairs, steps, furniture, and other potentially dangerous obstacles. This is a vital function as falls at a certain age can be quite life-threatening. 
Meal Planning and Preparation
Managing a kitchen can be challenging even for young adults. At an advanced age, chores like shopping for groceries, planning a meal, chopping things safely, and operating an oven or cooktop becomes either difficult or downright dangerous. 
Caregivers can either assist a senior in these kitchen tasks or take over entirely. They can go out shopping for groceries when the kitchen supplies run low. They can also plan meals based on any dietary requirements and allergy information. 
After cooking simple meals, they may also help the client eat if poor vision/mobility issues prevent them from handling cutlery. Ensuring adequate nutrition is a critical duty for caregivers handling homemaking duties for seniors. 
Light Home Maintenance
The homemaking duties for seniors can also include myriad everyday chores like doing the laundry, tidying up the house, basic cleaning, vacuuming, removing clutter, and so on. After meal prep, they will clean the kitchen and do the dishes. 
If the senior keeps any household pets, the caregiver can also ensure the animal's wellbeing by providing fresh water and keeping the feeding bowls filled. Likewise, if there are any household plants, they will gladly water and add nutrients if necessary. 
Medication Reminders
Personal caregivers can only remind their clients to take the prescribed medication on time. They may also provide some assistance in supporting any physician-prescribed exercise programs. On the other hand, they cannot handle serious tasks like changing catheters, injecting medication, etc. 
These fall outside the ambit of homemaking duties for seniors. You need a licensed nurse to handle all medical services for at-home seniors. 
Transportation & Companionship
Many seniors cannot drive on their own for routine things like shopping, doctor visits, and other social visits and events. Caregivers are fully equipped to accompany and drive their clients for scheduled doctor visits, scans, shopping, and other fun activities. 
Last but not least, their constant companionship and attention may help cheer seniors up and prevent loneliness and depression from setting in. Through engaging in games and interactions, the service providers can also look for any worsening signs of cognitive degeneration. 
Hire Home to Stay to Help with Homemaking Duties
Home to Stay (H2S) is a trusted provider of at-home personal caregiving services to seniors and individuals suffering from chronic health conditions and physical disabilities. To book a caregiver for homemaking duties for seniors in New Jersey, call us at (856) 321-1500 or (732) 820-9611.