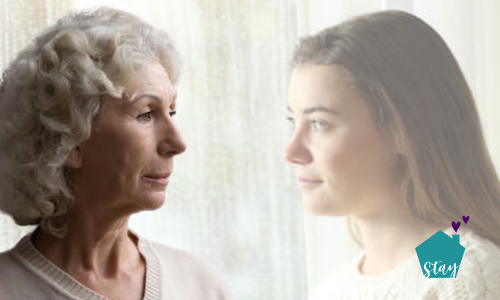 Properly caring for a patient living with dementia looks different than other patients. Specialized dementia care needs are on the rise in the home and facilities. Knowing what to expect and what to look for as the disease progresses impacts care management and direction.
AlzBetter is an innovative dementia care system aimed at helping people living with Alzheimer's and other forms of dementia to live safely with a better quality of life. 
Our AlzBetter program offers a comprehensive program focused on both the person living with dementia and their family. Each family has access to dementia coaches who are certified through the Alzheimer's Association. Additionally, our comprehensive training program helps care partners acquire the skills they will need in order to help support not only the person living with dementia, but also the family members who are involved in their care. Our goal is to provide a meaningful day with a focus on overall quality of life no matter the progression of the disease.
Benefits of Home to Stay's AlzBetter Program
At the center of each of our care plans our focus is always on you and your family. We never just check boxes, rather we create meaningful experiences. 
We are the only authorized provider in New Jersey of the award-winning AlzBetter program. With our 30+ years of home care experience, we are bringing a new level of dementia care to the industry. Our team of memory care specialists undergo the highest level of training, offering empathy, understanding, and – most importantly – a plan. 
Benefits provided by Home to Stay's Alzbetter Program include:
Building relationships with patients and families to fully recognize their humanity and care needs.

The Alzheimer's Association and a team of leading physicians reviewing and approving specialized training.

Evidence-based guidelines for dementia care.

Optimized care through our development of care processes, software algorithms, and analytics.

Breaking down the care process into small, manageable chunks provide the greatest chance of success.

Regular follow-up visits to assess the current level of dementia and make changes to the daily schedule based on results.
Understanding Our Meaningful Day
Our Home ToStay ELITE Program defines a successful "Meaningful Day" as a day with purpose and intention while providing necessary daily care. Dementia is progressive and constantly changes affecting each person differently, which means the structure and activities of the day will change over time. 
Our ELITE Program is led by an AlzBetter certified dementia coach and supported by our care team certified through the Alzheimer's Association's EssentiALZ program. Your loved one's day is tailored to the likes, wants, and needs of the patient, with your family in mind. 
We are not a typical homecare agency. We offer more and expect more. We see them as you see them. Where other agencies see their clients as a series of tasks to be completed, we see the opportunity to create a day filled with meaning and purpose.
Contact Home to Stay for the Alzbetter Program
We would love the opportunity to speak with you directly and discuss our Elite Dementia Care Program with you and your family. We serve families throughout South and Central Jersey with offices in Cherry Hill and Red Bank, New Jersey.  Get started by calling our team today at (856) 321-1500 or (732) 820-9611.