Hiring a live-in caregiver as your aging loved one's home care services companion is a fantastic way to ensure that your loved one is able to remain in his own home and enjoy as much independence and freedom as possible, while still being safe and having his needs addressed. A live-in caregiver is available 24 hours a day, though this type of home care services companion does have the expectation of a full night of sleep, meaning that she is not available at all times, but rather is only available at night if there is an emergency. If you feel as though your aging loved one needs a home care services companion that is available and awake all night, it is better to consider hourly services in which one or more caregivers will be available during the day and then one or more in home care providers will be available at night. In the instance of a live-in caregiver, there will generally be two or more caregivers. A primary caregiver will be available 24 hours a day for 3 to 4 nights per week, while secondary caregivers come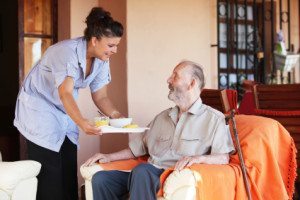 in while the primary caregiver has time off. Because she will be spending such a large amount of time with your aging loved one and in the home, it is important that you make sure you hire the correct person.
The hiring process for a live-in caregiver should include a detailed in person interview, and you should not hesitate to closely evaluate not just the professional experience of the caregiver, but also her personality so that you can make sure she is compatible with your loved one and with the rest of the family.
Here are some things to look for when hiring a live-in caregiver:
How long has this person been in the home care services field?
Does she have specifically geriatric experience?
Is she familiar with the type of care and assistance that your aging loved one will need?
Does she appear clean and put together?
Does she speak articulately and with confidence?
Does she have a personable personality and present herself as approachable?
Are her references legitimate and do they speak highly of her?
Is she willing to perform the types of services that you expect of her at all times?
Is she legally eligible to work in this country and in this field?
Does she present herself as a professional?
Are you comfortable around her and with her around your family?
For all of your home care services in Turnersville, NJ and the surrounding areas call and talk to us at Home to Stay Healthcare Solutions (856) 720-0081